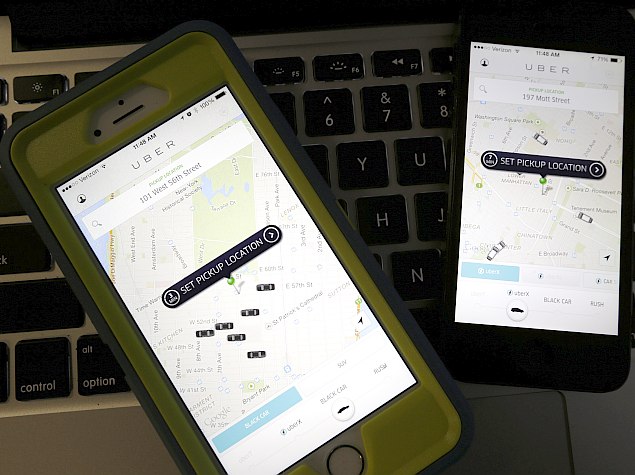 Hundreds of taxi-drivers working for Uber and other online cab-hailing companies protested in Delhi on Monday, saying the government's latest crackdown on their business had disrupted operations.With the Delhi government determined to step up pressure on the companies after they defied a state-wide ban for six months, police officers have been using the taxi-hailing apps to book vehicles and impound them as they arrive.
"The police are treating us like terrorists," said Sakil Ahmad Khan, 42, whose car was impounded last week. Without a job, he said, he did not know how he would repay a 500,000-rupee loan he had taken on his car.
The taxi companies were banned in December, after a driver contracted with Uber was charged with raping a woman passenger in a case that sparked national uproar and highlighted the absence of screening of drivers by the U.S.-based company.
Uber resumed operations in January even though the ban remained in place.
Police have impounded more than 600 cars belonging to their drivers since the Delhi government last week rejected licence applications from the taxi-hailing companies, saying they had not complied with the ban.
The taxi companies must comply with the law, said Muktesh Chander, Delhi's special commissioner of police.
"They are arrogant and don't want to run by the law," he added. "If they think the law is unreasonable, they can challenge the law."
In an emailed statement, Gagan Bhatia, Uber's general manager in Delhi, said the company would continue working with the government to find an amicable solution.
On Monday, Uber's app in New Delhi showed no cars available, or a surge in pricing, signalling a shortage of drivers.
Many of the drivers gathered at Jantar Mantar, an 18th-century observatory and traditional rallying point in central Delhi, said they would have to stop working for the taxi firms unless the government reversed its decision.
Krishan Kumar, 25, said police impounded his car a few days ago, after a customer called his taxi to a shopping mall. When he arrived, his vehicle was seized by officers and he was forced to pay a 5,000-rupee fine.
"I come from a small household and we don't have much money," Kumar said. "My entire family is dependent on me for a source of income and they will go hungry if I don't have this."
["source-gadgets.ndtv.com"]