Education, Education, Education review – 90s school play is smartly entertaining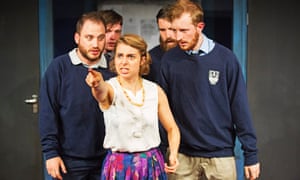 It's 1997 and Tony Blair has just been elected prime minister, Katrina and the Waves have won the Eurovision song contest and Cool Britannia is starting to swing. It's not a moment too soon for Wordsworth Comprehensive, a school close to special measures where some pupils have been taught in temporary cabins for the last 20 years. Blair's mantra "education, education, education", and the promise of an injection of funding, have buoyed the spirits in the staff room as muck-up day approaches and year 11 go off to revise for their GCSEs.
Take That, the Spice Girls and Oasis provide the soundtrack for the Wardrobe Ensemble's look at our education system, but like the company's brilliant 1972: The Future of Sex, this is no nostalgia fest. With action seen through the beady eyes of German teacher Tobias (James Newton, very funny), who is doing a placement at the school, it offers a searching look at how schools are blown hither and thither by changing governments, ideologies and education theories, and how children are simply sausages in the machine to be squeezed into uniform shape.
Characters are quickly set up and sharply defined, from the enthusiastic but ineffectual head to the discipline-crazed deputy who clearly has her eye on a headship, and the English teacher who brings the subject alive but can't keep control of the noise. In the staffroom, confiscated Tamagotchis are overfed, one-night stands regretted and the leavers' assembly planned.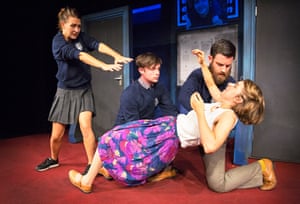 Meanwhile, bright but troubled Sophie (Emily Greenslade), outraged by the unfairness of being bumped off the school trip to York, has started a petition to be reinstated.
Delivered with a refreshing blend of dance moves, full-on farce and deadpan Teutonic wit, this is a smartly entertaining 80-minute show, which probably needs an extra 10 minutes to allow the story to breathe and to introduce the narrative a little earlier into the proceedings.
But it is canny, slick work from a company that knows exactly what it is doing. It plays cleverly on the fact that audiences will be well aware of what has happened to education over the last 20 years and the way current Tory policies have seen demoralised teachers leaving in droves and have failed children, particularly the most vulnerable.
Source:-theguardian