Desk jockeying from the comfort of your home? Make your home office way more awesome with these six gadgets. They can help increase your productivity, reduce boredom, and make working from home much easier.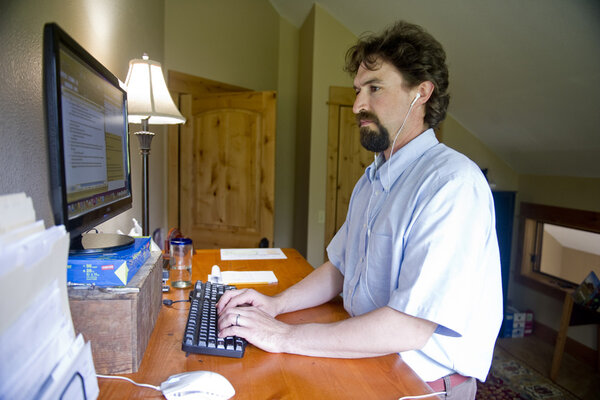 1. Multi Device Keyboard
Need to switch from iPad to laptop, and back again without fumbling for cables or constantly restarting the Bluetooth connection? This multi-device keyboard makes it easy — as simple as turning a dial. It's wireless and completely mobile, making it easy to move around the house or pack on business trips.
2. Smart Light Bulb
I've been on spreadsheet grinds that go so long that when I look up, the sun's set and it's dark as a cave in my office. It's time to consider switching the home office lighting to the new GE Wink, which can be controlled by both your home dimmer and from anywhere with a smartphone app. Try one in your office and one in the living room, so you can brighten, dim, or turn off the light without having to leave the desk.
3. Bluetooth Headphones or Speaker
My Bluetooth speaker has been a lifechanger. When playing back a video for work, I can actually hear it without tethering myself to the computer with corded headphones. If you want a big sound for less, try the Photive Bluetooth speaker, which is by far the best value in the Bluetooth speaker market. It also holds a single charge for days.
For those who like lush headphones, these Jabra Bluetooth headphonesare awesome. They're comfortable, have well rounded sound, and work within a decent range. You can finally enjoy work tunes and grab something from the fridge at the same time!
4. USB Key
This really handy USB stick by LaCie fits onto your key ring, but it's also shaped and sized like a key! This makes it lightweight and less bulky than your current USB drive. You'll also find it very hard to fill because it holds a sizable 32GB of drive space, making this the perfect goto on-the-go USB solution.
5. Desk Elliptical
Everyone knows it now: Sitting is a disease. But even if you work from home, you probably also need to work at a desk. There are options such as the standing desk, or the treadmill desk. But, If you want to remain sitting most of the time yet keep your blood flowing (perhaps even burning some extra calories), try this under-desk elliptical. It's compact, light, and easy to use. Plus, it's a great value compared to full-size home gym equipment.
6. Tylt Vu Charging Pad
This is really cool: An affordable and convenient home charging pad that's good for any smartphone. No more misplacing cords, then scrounging for them in a hurry when your phone is at 3% battery. It's also small enough to keep on your desk and take along on business trips.