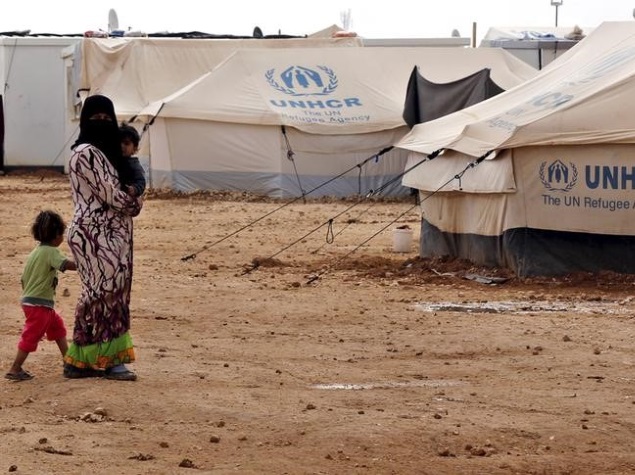 A virtual reality film which guides the viewer through the daily life of a young girl in a Syrian refugee camp aims to engage the public with the plight of some of the world's most vulnerable people, according to its co-creator.The eight-minute film "Clouds Over Sidra", which was commissioned by the United Nations and is currently on show at the Sheffield Doc Fest, transports the viewer to the Zaatari refugee camp in northwest Jordan.
It follows 12-year-old Sidra, offering a 360-degree view of her surroundings through avirtual reality (VR) headset as she attends a makeshift school, eats dinner with her family and plays football on a rubble pitch.
Sidra is among the estimated 4 million refugees – around half of them children – who have fled Syria during more than four years of conflict.
Some 85,000 Syrians have found sanctuary at Zaatari, around 15 kms (10 miles) from Jordan's border with Syria and now one of the world's largest refugee camps.
U.N. adviser and filmmaker Gabo Arora said the use of VR technology could attract more attention to humanitarian issues and prove more engaging than relying on written reports and celebrity endorsements.
"Sidra's spirit and playfulness in a difficult situation draws the viewer into the reality, and makes you think twice about life as a refugee," the film's co-creator told the Thomson Reuters Foundation at the festival in the English city.
"Zaatari has more children than adults, it's surreal and sad but also touching… children have that innocence and what you can draw through their eyes is that which adults might not see."
The VR technology used to shoot the film, which is not yet widely available to the public but has been used by the gaming industry, gives the viewer the perception that they can reach out and touch the children gathered around them.
Companies such as Samsung, Sony and Facebook are testing the technology and VR company Oculus said last month it would start shipping the much-awaited consumer version of its Rift headset in early 2016.
"When people get hold of VR technology in the near future, those who may not have otherwise thought about such an issue will have Sidra's story there waiting for them," Arora said.
The U.N. plans to also use the VR technology to make films about survivors of Ebola in Liberia and pollution in India.
["source-gadgets.ndtv.com"]