Global research firm TrendForce has outed its smartphone shipment report for Q3 2015. It shows that worldwide smartphone shipments for the period grew by 9.1% over the previous quarter and total 332 million units.
Samsung is still the market leader, but its market share in Q3 has fallen below the 25% mark. As a result, the company has reduced its projected Galaxy S6 shipment to 40 million units. Notably, the company is yet to ship 10 million units of its newly launched Galaxy Note5 phone.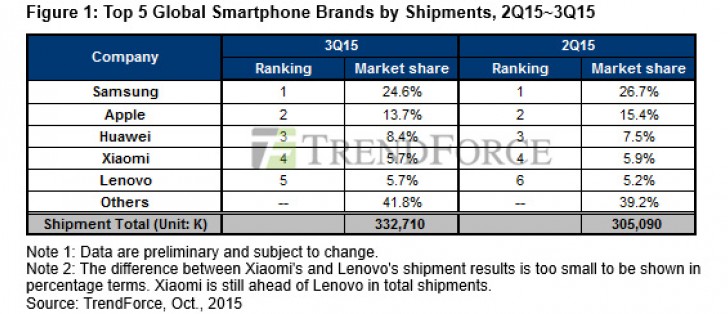 However, the company continues to lose ground in the low-end and mid-range smartphone spectrum due to fierce competition by Chinese makers. By TrendForce estimates, Samsung will see its first even decline of annual smartphone shipments in 2015 with 1% year-on-year drop.
On the other hand, the company anticipates Apple to keep the momentum of the iPhone 6 duo with the new generation iPhone 6s family. The company is expected to ship a total of 223.7 million units in 2015.
Chinese smartphone vendors are leading in volume and are responsible for 150 million units. That's a 16.3% increase quarter-over-quarter. Most notable of all is Huawei, which did above what analysts were expecting.
Huawei becomes the first Chinese smartphone brand to reach 100 million units in shipments and cements its position as the third-largest vendor worldwide.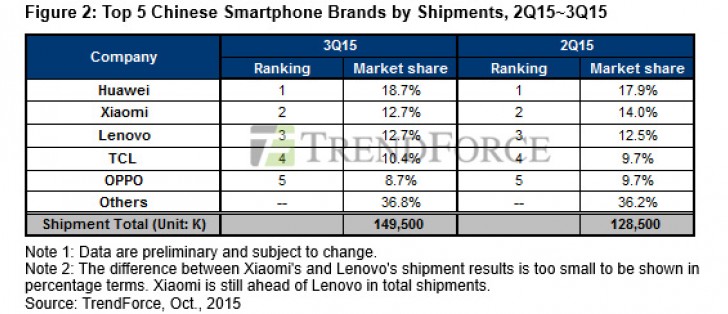 In spite of Xiaomi's rather unsuccessful attempt to enter the high-end market with the Mi Note, the company is still on track to sell a lot of mid-range devices like the Redmi Note 2 and Mi 4c in the second half of 2015. The company is expected to ship a nudge below 100 million units in 2015.
["source-gsmarena"]