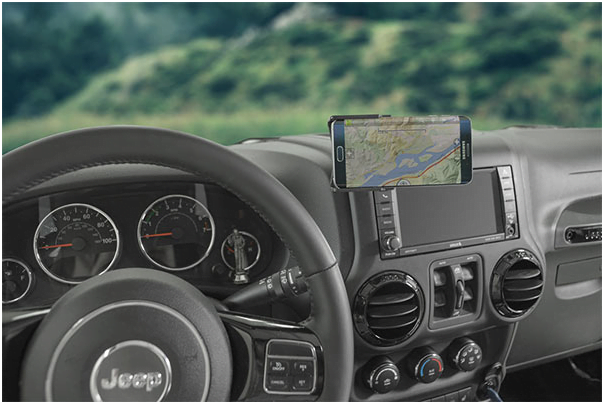 Let's be honest: The reason you got a Jeep is so that you can feel like GI Joe. Yes, Jeeps are amazing on rough terrain, their simple design makes them easy to repair and maintain, but the same can be said for a lot of different vehicles. What sets the Jeep apart is that it's like an action figure playset for grownup outdoorsmen and women. So what's the point in driving a Jeep if you're not going to trick it out like a mobile command center? Here are some of our favorite gadgets and tech for Jeeps:
SUV Tents
The fun thing about an SUV tent is how it connects right to the back of your Jeep, so you can unfold it right out the back and enjoy your vehicle's sound system while camping out. SUV tents are available in various sizes and models, with Rightline Gear's 4-person Wrangler model being one of the more popular.
Lock Box
It's just a metal box with a lock on it, but it solves a problem many Jeep owners worry about: How do you keep things safe in your ride when you drive without a top? Well, you can bolt this box under your seat and not have to worry about carrying everything in with you when you hit the gas station.
Quick Draw Overhead Gun Rack
On a hunting trip and you see a gorgeous buck, but there's no time to pull over and grab your gun out of the back? The Quick Draw Overhead Gun Rack makes it easy to hit the brakes and snag your weapons from overhead. Lightweight with a powder-coated enamel finish, this gun rack is durable, and looks really, really cool with a couple rifles packed into it.
Mobile Device Mounts
Pulling your cell phone out while driving kind of takes you out of the adventure, doesn't it? But mounting your phone on the dash like you're in the Batmobile? Much cooler.
Sportz Air Mattress
Fitting between the wheel-wells, the Sportz Air Mattress uses a built-in hand-pump so you don't need to lug one around. Great for camping, but amazing for road trips. No matter where you wind up, no matter what happens, you'll always have a cozy spot to grab some sleep.
Switches and Knobs
Dash controls these days aren't much fun to look at, or to play with. Whatever happened to switches and dials and buttons that made a nice "click" when you used them? Everything is done with a gentle touch these days, which just isn't what you want from the Jeep experience. Old school rocker switches and windshield knobs are just the thing if you want to bring some of that classic Jeep feel into the interior.
For the Tool Kit
Packing out your Jeep with all the appropriate repair tools, safety gear and camping equipment is important. Here are a few items to consider to make sure you're fully loaded for your next adventure:
Jeep Fire Starter Emergency Knife
Digital Tire Pressure Gauge
Bed-liner
SOG Machete
Tactical Flashlight (DO NOT look directly into the bulb on this one)
The equipment that you use to outfit your Jeep depends largely on what kind of journeys you're going on. If you're taking a lot of road trips then your gear is going to look different than someone who primarily uses their Jeep for hunting. All the same, accessorizing your Jeep is one of the most fun parts of owning one. Find what works for you.