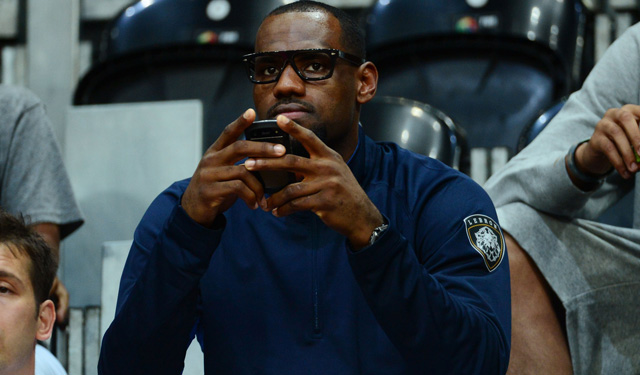 An annual tradition of LeBron James going from tweeting words of encouragement about striving for greatness and which draft selections he'd like incumbent teams to make on his behalf to zero social media activity is upon us. It was 26 days ago when the Cleveland Cavaliers' superstar tweeted "Zero dark thirty-23 activated #StriveForGreatness" before going dark on his social media happenings.
Since then, he's been avoiding social media and helping the Cavs advance to the Eastern Conference finals for the first time since 2009. The problem is his social media silence has actually been social media whispering, possibly as an accident or possibly because his accounts have been hacked like it's attacking the rim on a pick-and-roll against the Bulls. Regardless of the reason, we've seen LeBron subtely whispering into the hollow depths of the internet.
Some time last week, LeBron's Instagram account liked a… let's just say… specific type of photo from a niche account with over one million followers. It's possible it was him sneaking around on the internet in the middle of the playoffs when he was supposed to be banning himself from the information super highway. Perhaps an intern for Rich Paul or Maverick Carter was logged into the wrong account when they liked the photo.
It was the only blip of activity LeBron James social media accounts have had since his "zero dark thirty-23" mode was activated. Is there anything so alluring that he could possibly be tricked into breaking that silence with another whisper during this playoff run? Only LeBron could look in the mirror and answer that question… or look at a Facebook post about him and his team reaching the ECF.
Thursday night, following the Cavs putting away the Bulls out to pasture, LeBron James' verified Facebook account liked a graphic from CBSSports' Facebook page. If it is in fact him breaking his own social media silence, it simply takes a graphic of him on Facebook or a certain type of photo that — much like his own Instagram account — garners a lot of hearts and comments.
There is another possibility. A few months ago, I was at the beach and fell asleep on a towel. In the process, I rolled over onto my phone, which had been accidentally unlocked, and unknowingly tweeted a photo of Pete Maravich while I soaked up rays of sunshine in my own beach day slumber.
Perhaps LeBron just has that fingerprint ID unlock on his cell phone and accidentally clicked around on a few things while he was laying in a hyperbaric chamber or a sauna or in his KIA as he takes a rest in the backseat and gets away from the noise of his own house. Whatever the reason, the whispers are increasing in number as he works toward competing in a fifth straight NBA Finals.
["source-cbssports.com"]