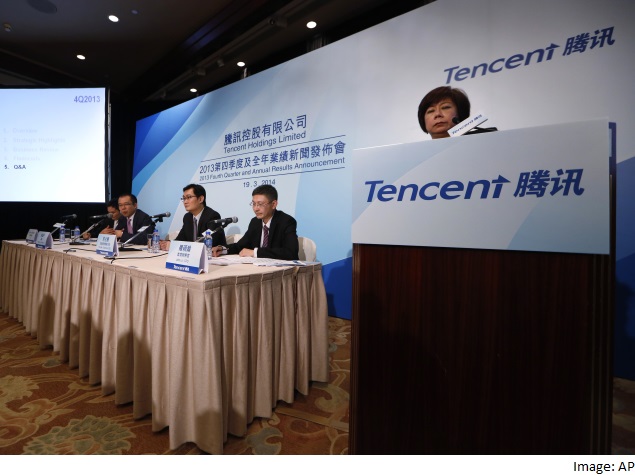 Tencent Holdings Ltd, China's biggest social network and online entertainment firm, posted higher-than-expected first quarter revenue as a drive to sell more advertising on its social networks and entertainment services began to pay off.
Revenue for the quarter ending March rose 21.7 percent year-on-year to 22.4 billion yuan ($3.61 billion), the slowest growth in eight years but above analysts' forecasts of 22.01 billion yuan, according to a Thomson Reuters SmartEstimate poll of 11 analysts.
Tencent's social networks are as ubiquitous in China as Facebook Inc is in many parts of the world, and the company has said it wants to emulate the success of its U.S. peer in using social networks for advertising.
Online advertising revenues leapt 131 percent from the previous year to 2.72 billion yuan ($438.41 million), and sales from brand display and performance-based ads rose 90 percent and 199 percent respectively, it said.
Tencent, which has a market value of $190 billion, pegged this to more viewer traffic on its burgeoning online video business, and more sales of mobile social networking ads.
The Shenzhen-based company is aligning its various businesses, including online entertainment and advertising, around its popular social networking app WeChat, which is China's most widely used mobile app and now has more than half a billion global monthly active users.
"Our key mobile properties extended their leadership in China and continued to broaden user activities from social communications to gaming, entertainment, media content, payment and beyond," Pony Ma, Tencent's CEO, said in a statement.
Tencent said global monthly active users of WeChat rose to 549 million from 500 million in the previous quarter, as the social network solidified its dominance in the market despite slowing smartphone sales.
Its net income for the quarter also climbed a higher-than-expected 6.6 percent to 6.9 billion yuan
["source-gadgets.ndtv.com"]