Sony Xperia Z5 Premium unboxing: Sony's newest, highest-end smartphone yet is here in our hands.
The world's first smartphone coming with a 4K display is a Sony product called Xperia Z5 Premium. So, we wondered how the handset really looked, and luckily, we were able to figure it out. Now, it's your turn!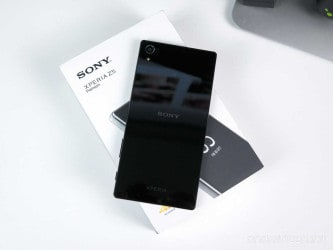 Debuted together with Sony Xperia Z5 and Xperia Z5 Compact, the Premium seems the best thanks to its 5.5-inch 4K (aka UHD, 3840 x 2160) screen. Besides, Sony Xperia Z5 Premium is a bit different from the others as it is obviously the biggest and heaviest member. However, the Premium's pretty slim at 7.8 mm, just slightly thicker than the Z5 but thinner than the Compact version. So, in the unboxing clip you see below, it is a black Premium with plenty of top and bottom bezel but still fantastic, isn't it?
Apart from the amazing display, other Sony Xperia Z5 Premium specs are also strong such as Qualcomm Snapdragon 810 chip, 3,430mAh battery, 3GB RAM, 32GB ROM, fingerprint sensor built in the home button and Android 5.1 Lollipop. In addition, it comes with the IP65/68 standard, making the phone dust proof and water resistant over 1.5 meters and 30 minutes. As for the camera, there are a 23MP rear with capability of recording 4K videos, and 5.1MP front snapper to assist you in taking photos.
Well, according to the source, the tester will look at the Z5 Premium deeper in the coming days and weeks and of course we will also know more about the quality of the world's first 4K smartphone display. Yet, firstly please note that it might be 4K in hardware but most of the time it is Full HD just like the 5.2-inch Sony Xperia Z5 .
Sony Xperia Z5 Premium price and availability
We cannot deny that Sony Xperia Z5 Premium is the most high-end phone Sony has ever introduced. Its price is $955 at the moment and will probably be reduced in the next few months. But what do you think about this guy in general and in particular? Like the design, specifications, price, etc. Share with us!
[Source:- Pricepony]