Music labels win $22.2m damages from MP3Skull – if they can find its owners
Following a lawsuit coordinated by industry body the RIAA, rightsholders are awarded maximum damages and given green light to seize domain names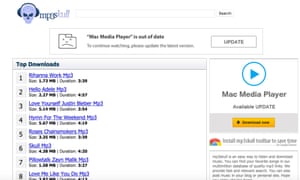 Music filesharing site MP3Skull has been slapped with a $22.2m (£15.8m) damages bill after losing a lawsuit filed by record labels in the US.
The labels, working through industry body the RIAA, won a default judgment against the site, with the judge in the case awarding maximum statutory damages of $150k for each of the 148 songs submitted as evidence.
The judgment also gives the labels the power to seize domain names belonging to MP3Skull, whose operators have been barred from any future activity that infringes the copyrights of the music companies – although their identify remains unknown, and they did not respond to the lawsuit.
That indicates the next challenge for the RIAA, which is to enforce both the damages and the domain seizures. The site is currently operating from the MP3Skull.yoga domain, having moved from .com and .to domains – both of which are blocked by ISPs in the UK under a high-court order.
As TorrentFreak noted in its report, the ruling is likely to "trigger a cat and mouse game, with MP3Skull switching domains" to stay online.
MP3Skull has been in the RIAA's sights for some time. In October 2015, the industry body attacked the site – which links to MP3 downloads of tracks by a host of popular artists – as being "dedicated to ripping off music".
"The site's sole purpose is to generate profit from that theft of music, and it makes no pretence about what it does or why it does it," claimed the RIAA.
"Virtually any commercial recording is available for free to download through the site and the most popular artists and songs ('Top Downloads') are invariably chart-topping hits."
The default judgement against MP3Skull comes shortly after the RIAA forced another unlicensed music service, Aurous, offline after just a few days of operation, eventually settling with its developer in December 2015.
[Source:- Gurdian]