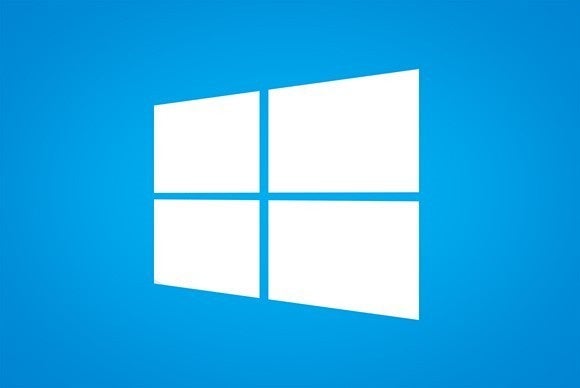 Windows 10 is actually pretty great. But Microsoft hasn't rested on its laurels: Better messaging, improved device activation, and media casting comprise several significant improvements within the first major patch to Windows 10 since its release in July.
A couple million users helped Microsoft evaluate Windows 10 before its launch. More than 110 million have already downloaded it since then. Today, with the release of the November Update, formerly known as "Threshold 2," both groups are on the same footing:  Microsoft's update takes many of these features out of preview and adds them to the "stable" build of Windows 10. And it's not just the PC that's receiving an update; Microsoft is launching the New Xbox One Experience (NXOE) for its game console, too.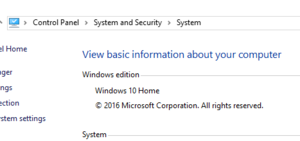 Microsoft has released five previews since July. All but arguably the first two have added notable features while also fixing bugs (and introducing some, within the beta build environment) along the way. (Microsoft told us right before the launch that the latest beta build represents the "release candidate" for the update, essentially rolling up the previous builds into a public release.)
We've picked five improvements we think you'll like most, based on what we've seen of them in the beta builds that Microsoft released before the launch.
Why this matters:  We expect updates to patch bugs—and Microsoft has done so in subsequent patches since the public release. (One irritating example: Mail's habit of suddenly disappearing, which now appears to be largely fixed.) But Microsoft's November update release can also be thought of as propaganda: For all of the 110 million people who have upgraded to Windows 10, that's less than 8 percent of the PC market, according to Net Applications. Think of releases like "Threshold 2" as the carrot to lure users to upgrade, with next year's "recommended" upgrades to Windows 10 as the stick.
Cortana becomes your legal, entertainment assistant
I suspect that Microsoft's digital assistant, Cortana, isn't being utilized quite as much as Microsoft had hoped. Microsoft chief executive Satya Nadella recently said that Microsoft's 110 million users have only asked Cortana more than a billion questions—a big number, but it works out to roughly ten per user.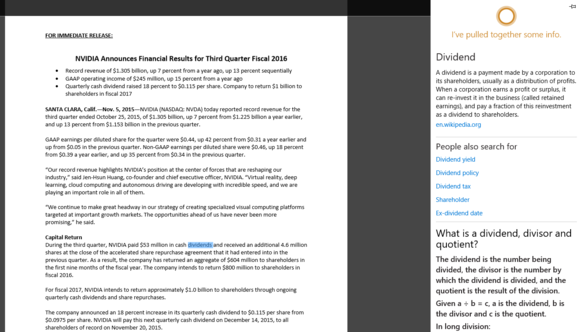 To help her become more popular, Microsoft has taught Cortana three new tricks: She tracks your movies and other ticketed events automatically, via your email; she can read "handwritten" notes via a Surface stylus; and you can now "Ask Cortana" for additional context within PDFs. Ticket tracking is a nice twist on the flight tracking capabilities that Google Now, Cortana, and Siri do, and Cortana's newfound ability to understand scrawled notes will be handy for those who use a Surface tablet frequently in an undocked mode. But highlighting a legal term in a court case or negotiation with a mortgage lender is especially convenient.
Microsoft's answer to the Chromecast
Microsoft originally dubbed this "media casting via Microsoft Edge," and mentioned how Windows 10 can now cast to any Miracast or DLNA device connected on the same network. In reality, you probably won't know what devices on your network are compliant until you try to click the ellipsis menu on the upper left and select Cast Media to Device. In my house, they included the Xbox One as well as a Roku 3.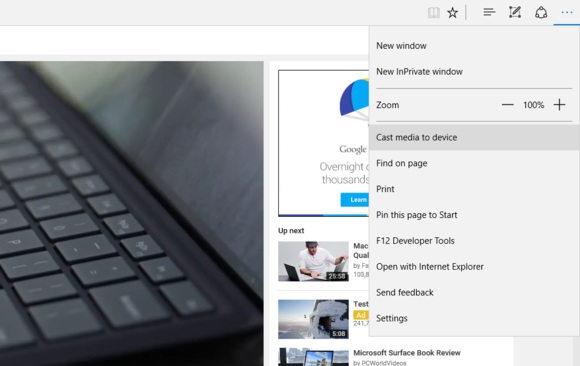 The idea is that Windows 10's Edge browser will allow you to stream YouTube videos, Facebook photos, and Pandora songs from your Edge browser to your other devices. Unfortunately, the preview software just didn't seem to work. I was able to push a YouTube video from a Surface 3 to the Xbox One just once, where it stalled after a second or two. And Edge asked for a PIN code from the Roku 3, which that box failed to provide. But for the Xbox One and Roku 3, there are already native YouTube apps that do a better job. (There may be other DLNA Miracast devices that lack native apps.)
I'd like to see this idea come to fruition, if only to provide the numerous Roku boxes out there with screencasting capabilities. Unfortunately, Google and its $35 Chromecast already perform these functions with ease—and the Chromecast handles protected content; Microsoft says it doesn't.
Snapped apps become even snappier
One of the joys of Windows 10 is Snap: Simply by holding the Windows key and an arrow key, you can quickly order a highlighted window into half or even a quarter of the screen. But if you want to fiddle with the alignment, you're forced to manually resize one window, then the other until everything's just so. A new toggle in the Settings app does away with this.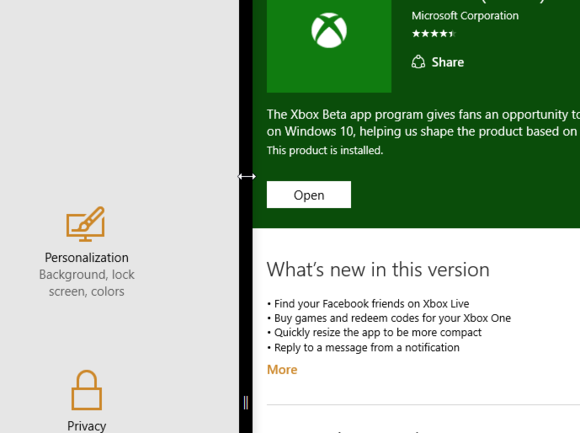 If you so choose, two windows snapped adjacent to one another can be adjusted by "grabbing" the border between the two and sliding the windows back and forth. Yes, that's it: It's an extremely subtle, simple, yet useful improvement.
Also, while in tablet mode, apps can now be snapped to the left and right. Apps can now be dismissed by swiping down—a feature that was originally part of Windows 8.
Activation headaches (sort of) go away
Since the launch of Windows 10, the issue I've received the most questions about involves simply upgrading from Windows 7 or Windows 8 to Windows 10: is it going to erase all my files? What happens if I want to "nuke" the PC, and perform a clean install of Windows 10? A couple improvements have helped ease that pain.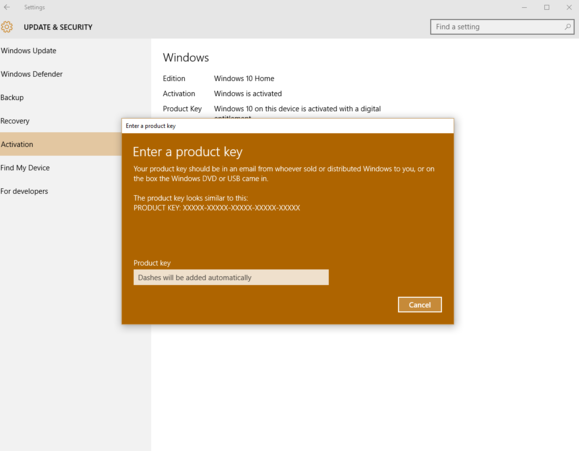 Windows 10 hunts down your old license key within your PC and uses it to activate the installation. But if that doesn't work, you now have the option of entering the key either during or even after the installation (Settings > Update & security > Activation). If you do use a USB key to upgrade to Windows 10, Microsoft recommends that you remove the key as soon as the upgrade process begins, to avoid having to enter a product key. If you're too late, reboot.
Microsoft also said that it'll upgrade its Media Creation Tool to simply provide a single Windows 10 image that will upgrade any 32-bit or 64-bit device, whether it be Home or Pro. The upshot is that this should help simplify the upgrade process for those who haven't begun it.
A brighter messaging future
One trick I really like is Windows 10's newfound ability to send a SMS text directly from Cortana. But how she does it is what's really cool: Instead of tethering your phone via a cable or Bluetooth, the PC's Cortana looks for a Windows phone that you're logged into and automatically sends the text. It even pops up a notification on the phone alerting you that your text was sent.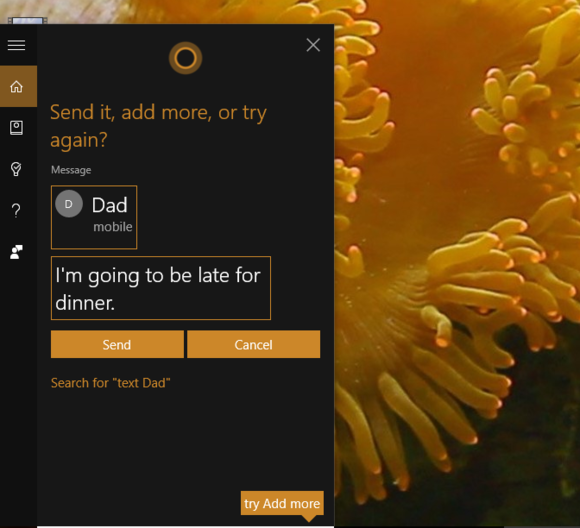 It's the first step in the eventual integration of messaging directly into Windows 10. The new build should allow you to download a Messaging app, where you can carry on Skype conversations without the need to drop into the Skype app itself. The idea is that, on a Windows 10 phone, SMS and Skype and other messaging apps will all live within the same app. You can see a bit of this, too, with Mail's unified inbox.
Unfortunately, my Windows phone (running a preview of Windows 10) didn't turn around and ping my PC when my father texted me back. We can hope this will be more fully fleshed out in the final build.
The runners-up
Although we've spotlighted several of the top features, many more await you. Here's a brief rundown of the rest of them.
The columns of Start tiles have expanded from three to four tiles across, while the number of tiles now supported by Windows 10 has increased to a whopping 2,048.


Mark Hachman

The wider Start menu.

A new Xbox beta app (not the Xbox app, but the Xbox Beta app) now includes a handy feature to find your Facebook friends who have Xbox Live gamertags. It's a fun way to connect with old friends who happen to use Xbox.
A new feature (on by default) will alert you to any problems with USB-connected devices.
Microsoft edge supposedly syncs Reading List entries and Favorites, although in my testing it didn't work within the preview builds.
Unfortunately, some of these features still have some kinks to work out—at least if the beta builds are any indication. Microsoft's bug bashers can't knock off yet.  Nevertheless, Microsoft has addressed some of the complaints users have had with Windows 10—and rest assured, the patching and update process will continue.
["source -pcworld"]