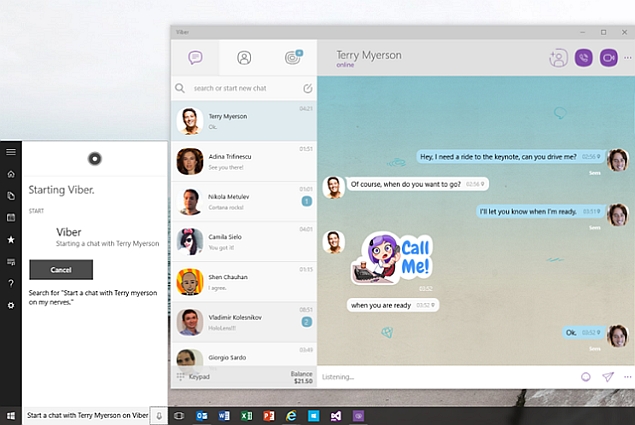 Microsoft at its Build conference announced that its voice-based virtual assistant,Cortana, can now be integrated with Universal Windows applications in Windows 10. The changing of Cortana's female voice to a male voice (Cortano) will also be possible in future.
The company's Marcus Ash in a blog post said that while over 500 apps are already integrated Cortana in Windows Phone 8.1, the company is now partnering with a new set of Universal Windows app makers for integration with Cortana in Windows 10 with its Voice Command Definition API. It has already partnered with company's such asUber, Viber, and Shopular.
The integration essentially brings custom voice actions similar to what Google introduced earlier this week for its own voice-based virtual assistant, Google Now. With it, users can ask Cortana to perform specific tasks that rely on a specific app.
While integrating, the Universal Windows app makers can choose either to launch their app, or continue to interact via Cortana. For instance, if a user says "Hey Cortana, Tell Sam Hood I'm running late using Viber," the voice-based assistant will understand that user want to send the message that he is running late through the Viber app. The Viber app can then choose to either launch the full app or to handle the particular task itself like in the image seen below. In the above-mentioned case, Cortana is shown to complete the task without opening Viber – using a quick reply feature instead.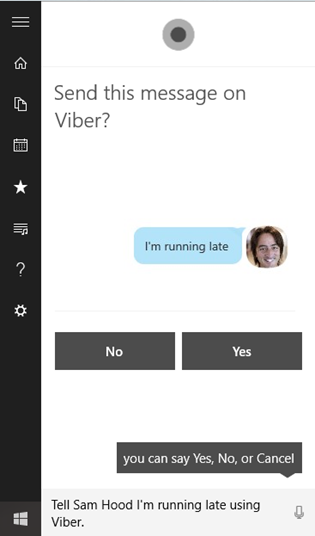 In case the app is needed to be launched, with a command such as "Start a chat with Terry Myerson on Viber", Cortana will open the Viber app to the conversation window of Terry Myerson. The firm also announced that it is working with Uber to offer "end to end experience that will be an integral part of Cortana in the future."
With the help of Cortana integration in to Uber app, the voice-based assistant will be able to recommend users an Uber taxi on the exact time they need it based on their schedule, and can also order the cab too. For instance if a user has booked tickets for a movie, Cortana will have the information and will show a reminder before the movie time. Also, along with the reminder, Cortana will also offer users the option to use Uber. Users will also be able to track the location of Uber right from Cortana.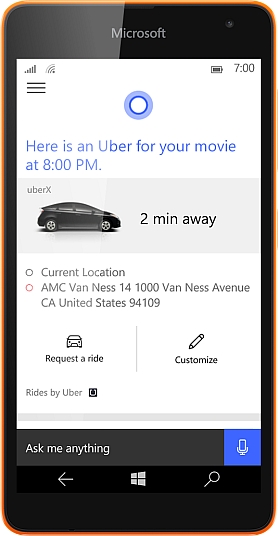 With apps like Shopular, Cortana will be able to recommend coupons to users. With Microsoft Edge, Cortana will notify users about any available coupons for the retail site on which they are shopping.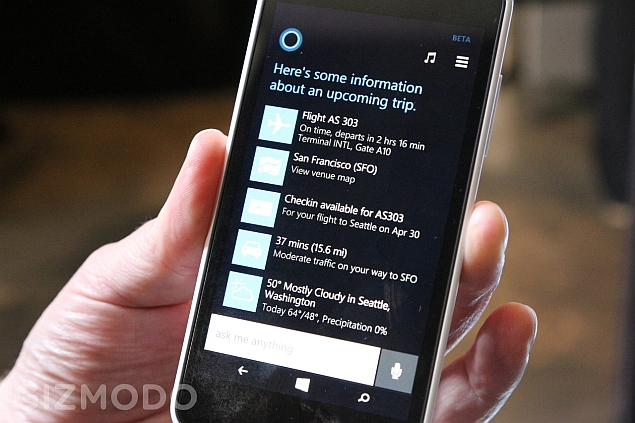 Moreover, users can also customise Cortana and change the voice-based assistant's female tone to a male tone (Cortona) in the future, as per Cortana director of engineering Michael Calcagano. "If you want a dude, we're doing it," he said. "Will it still be called Cortana as a male? I don't know. Cortano?" Gizmodo reported Calcagano saying
["source-gadgets.ndtv.com"]