"We are located in the most historic vineyards of Greece," says Vassilis Papagiannakos as we admire the view.
"There has been continuous wine production here since Ancient Greece."
Fields of pistachio trees, olive trees and, of course, vines stretch between here and Athens.
The three generations that Mr Papagiannakos' family has been running a winery in the Attica region, south-east of the capital, pale in comparison to the length of time wine has been made here.
But tradition is something he is very proud of.
"The viticulture is almost attached to our DNA."
About 80% of the wine produced at this vineyard is white – with a particular focus on the local Savatiano grape variety, which does well on the dry plains of the Mesogaia.
But the economic crisis in Greece has made it very difficult for his business – like many others here – to operate.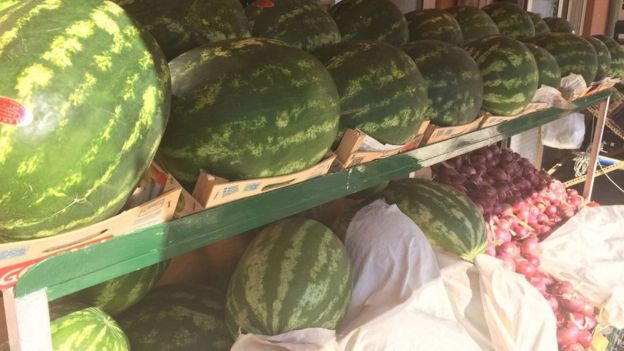 In the nearby town of Markopoulo, people are looking to the past for solutions to their difficulties.
In the central square – still known here by the ancient term "agora" or marketplace – Malvena Slee has just picked up today's €50 ration of bank notes from the ATM.
She says she moved to the town three years ago from Athens because "life is easier outside the city".
"You can have your own garden, your animals – you can protect yourself in a way," she says.
It is important to say that this town is far from showing the signs of severe shortages or starvation.
But cafe owner Aris Gkliatis is embracing a return to simpler times.
"We are finding a way to survive in this situation," he says.
Earlier today he accepted tomatoes in place of cash payment, he says, and many people are shunning modern gadgets and expenses.
"We are going back to the real values of living – the old way of living."
He says he believes self-sufficiency and simplicity is the way Greece will secure a better deal with its international creditors.
"If you don't have anything to lose, you play harder," he says.
"We have found the solution."
However, back at the vineyard, Vassilis Papagiannakos warns against any suggestion that the country could live off the land.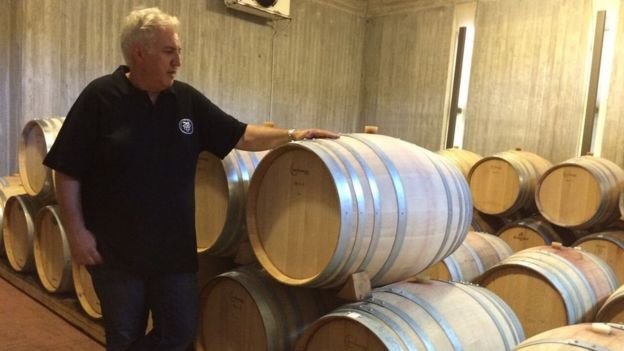 He agrees the area is relatively self-sustaining: "We have our our groceries, wine but also olive oil, figs, pistachios, watermelons, eggs," he says.
"But let's not think like that."He says it reminds him of what his father told him about World War Two, when occupied Greece suffered mass starvation and emaciated bodies were commonplace in the streets of Athens.
For Greece to be forced to rely solely on its own produce would be a "nightmare scenario".
"Greece has developed so much," he says, showing me around the modern, environmentally-friendly winery complex he completed the year before the 2008 global financial crisis.
"We can't go back to those years."
["source – bbc.com"]