On 18 May 2018 the FCO updated its travel advice because of an Ebola outbreak, advising against "all but essential travel" to the Equateur province of the Democratic Republic of Congo (DRC).
"If you become ill during or immediately after travelling to the country, seek medical advice immediately. Medical care is extremely limited.
"Outside Kinshasa, western standard medical facilities are almost non-existent. Medical evacuation to South Africa (or elsewhere) is often necessary."
What is Ebola virus?
It is a viral haemorrhagic fever (VHF): a severe viral illness with fever and associated with internal and/or external bleeding.
The virus first appeared in 1976 in simultaneous outbreaks in what is now South Sudan and DRC. The latter occurred in a village near the Ebola River, from which the disease takes its name.
The virus is transmitted to people from wild animals and spreads in the human population through contact with infected body fluids, or from objects contaminated by infected body fluids, such as medical equipment.
"This spread occurs particularly in health care settings that do not have, or do not adhere to strict appropriate infection control procedures," says the NHS.
The World Health Organisation (WHO) says: "Early supportive care with rehydration, symptomatic treatment improves survival.
"There is as yet no licensed treatment proven to neutralize the virus but a range of blood, immunological and drug therapies are under development."
How dangerous is Ebola?
For communities where it exists, extremely dangerous with a high fatality rate — typically 50 per cent of people who contract the disease will die.
In the most severe outbreak, in West Africa from 2014 to 2016, 11,000 people died in Sierra Leone, Liberia and Guinea, and a further 17,000 contracted Ebola.
The WHO has reported the first "laboratory-confirmed case" of the Ebola virus in the city of Mbandaka in the Democratic Republic of Congo (DRC).
WHO says: "The confirmed case in Mbandaka, a large urban centre located on major national and international river, road and domestic air routes increases the risk of spread within the Democratic Republic of the Congo and to neighbouring countries.
"WHO has therefore revised the assessment of public health risk to very high at the national level."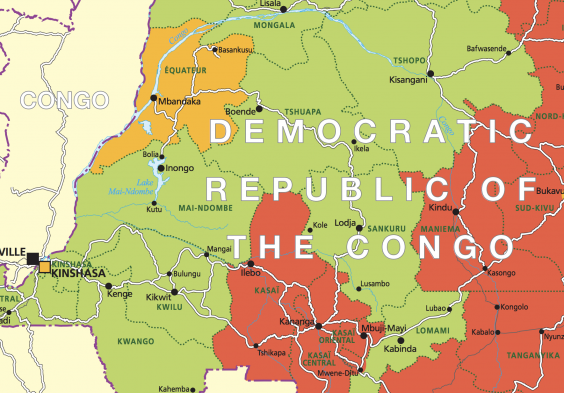 Mbandaka, formerly known as Coquikhatville, is the capital of DRC's Equateur province and is connected by river and air to the capital, Kinshasa.
Should DRC be isolated?
No, according to the WHO, which "continues to advise against any restriction of travel and trade to the Democratic Republic of the Congo based on the currently available information". Currently there are no restrictions on international traffic in place.
How big is the risk to travellers?
Some prospective visitors to Africa have contacted The Independentasking if they could be in danger.
In response to the latest outbreak, the NHS travel health provider FitForTravel announced: "When Ebola outbreaks occur generally the risk of travellers becoming infected or developing Ebola virus disease is extremely low.
"Travellers returning from tropical countries should always seek rapid medical attention if they develop flu-like symptoms (such as fever, headache, diarrhoea or general malaise) within three weeks after return, and be reminded to mention to their health care provider that they have recently travelled."
I want to change my travel plans. Do I claim from the airline or my travel insurance?
In the frankly unlikely event that you are booked to the Equateur province of the DRC, then your insurer; were you to travel there, your insurance would be invalidated.
Anywhere else, the airlines and holiday companies believe they can transport you safely and provide the good holiday experience you have booked. As a result, their refrain is "normal conditions apply". You won't be able to cancel, postpone or re-route your trip without losing some or all of your cash.
["Source-independent"]