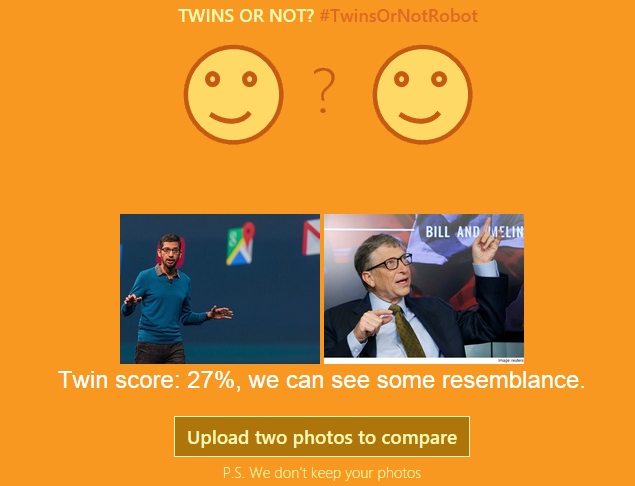 After making a website to determine people's age based on photos, Microsoft has now made one to tell if two people are twins, or the level of similarity of facial features between two people. All you need to do is head to Twins or Not, upload two images and wait for the website to determine how similar the faces in the two photos are.
The website looks similar to Microsoft's How Old site and works in almost exactly the same way. It requires photos of people though, so you will be disappointed if you, like us, try to check whether the iPhone 6 and the Samsung Galaxy S6 are twins.
The site takes a few seconds to match the faces in the two photos and then tells you how similar the faces are. We uploaded a photo of Microsoft founder Bill Gates and Google's Android head Sundar Pichai to the website and it claimed that their faces were 27 percent similar even though we couldn't detect any resemblance.
Microsoft says it doesn't store any of the photos uploaded to the site, which is good news if you're worried about what the company will do with your photos. A similar disclaimer was in place on the How Old website as well.
Microsoft engineer Mat Velloso designed Twins or Not. In a blog post, Velloso says that it took him just four hours to design the site. According to Velloso the website uses Microsoft's Machine Learning APIs to match faces.
Both these sites may indicate that Microsoft is working on facial recognition technology. The company can improve its image recognition algorithms through these sites. Neither tool is perfect as even the How Old website had its fair share of inaccuracies while determining people's ages. Both sites offer people a harmless way to have fun and judging by the fact that the sites went viral – people certainly are making the most of it.
["source-gadgets.ndtv.com"]