Cuban cigar box on sale for $17,000 may not have belonged to Che Guevara
Box purportedly owned by Argentinian guerrilla who helped Fidel Castro seize power in Cuba was to be auctioned – until his family disputed its provenance
When a Cuban cigar box purportedly owned by Ernesto "Che" Guevara was due to go up for sale at a British auction house last month, it appeared to be not just a piece of history but a partial repudiation of the revolutionary icon's reputation for austerity.
But the planned sale by Mullock's, with a price tag for £12,000 ($17,000) sale by Mullock's was scuppered by the Cuban institute responsible for safeguarding Guevara's legacy, which claims the item was not one of his possessions.
The case highlights the challenges faced by the revolutionary's heirs to protect an image and a name that have been used to sell everything from T-shirts and posters to vodka and bikinis.
Guevara – an Argentinian guerrilla who helped Fidel Castro seize power in Cuba in 1959 – reportedly went to great lengths to avoid imputations of luxury or suggestions that he profited from his position. Despite promotion to a ministerial position, he is said to have remained on the salary of a common soldier and refused gifts offered to himself or his family.
But he was also famous for his love of cigars, so there was considerable interest when the British auction house Mullock'sput up a box for sale apparently signed by Guevara and stamped on his 35th birthday – 14 June 1963 – as a present from the Cuban ministry of industries.
It was put by for sale by an anonymous vendor who was initially described as a friend of one of the revolutionary's sons.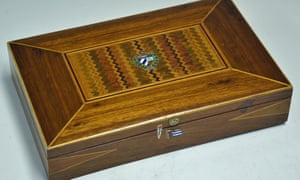 "We are extremely excited to be able to offer this truly fantastic piece of memorabilia, to our knowledge this is the first time that one of Che's personal possessions has been offered for sale," the auction house told a local newspaper before the sale.
The only similar item known to have gone on sale was a lock of Guevara's hair, which was sold in Texas for $119,000 in 2007 despite protests from his widow.
This time, Guevara's family and supporters appear to have intervened more effectively. In a public letter, the Che Guevara Studies Centre – which is run by his son Camilo – said it had "established without doubt that the cigar box had not been a personal possession of Che" through interviews in Havana with family members, former officials such as the vice-minister of industries Orlando Borrego, as well as a check of Cuban government archives. They also deny that either of Guevara's sons was involved.
The centre's intermediary, Helen Yaffe – an academic at the London School of Economics who has written a biography of Guevara – said she passed on the warning to the auction house. Mullock's said they subsequently cancelled the transaction, though no public statement has been made to this effect and manymedia outlets reported that the sale went ahead.
"This is just scaremongering," said a Mullock's spokesman, Ben Jones. "As far as we are concerned the box belonged to Che. There is no hard evidence to prove otherwise. But after we were contacted by a friend of the Studies Centre, we cancelled the sale … We've lost quite a lot of money on this. It's irritating."
The auction house has also retracted its initial claim that the vendor was a friend of Guevara's son. "It seems he may have just gone on a motorbike tour with him," Jones said in a telephone interview.
Mullock's later sent a statement by email, noting that: "The information provided regarding the vendor and the Guevara family was misinterpreted. We have the upmost respect for the Guevara family and sincerely apologise for any inconvenience caused."
Out of concern that the vendor may now try to sell the item privately, the centre in Havana has decided to go public with its concerns about the provenance of the box.
[Source:- Gurdian]