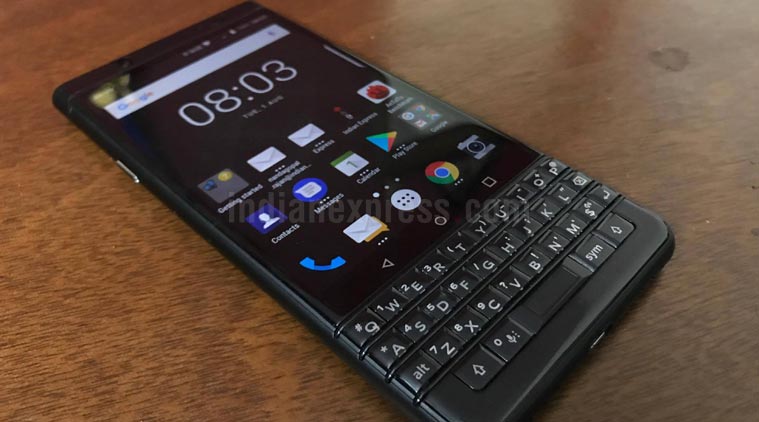 A number of BlackBerry-branded Android smartphones will be made available in India, starting the second-quarter of 2018.
The BlackBerry phone story will get a big boost this year with Noida-based Optiemus Infracom planning to launch a number of new devices with either physical keyboards or full touchscreens. All these phones will be running Android8.1 Oreo with focus on security as a key differentiator. The first of these will be a 'full-touch' phone that will hit the market in the second-quarter of 2018.
Interestingly, while these will be branded as BlackBerry, the phones will be designed in-house by Optiemus which will also manufacture these devices. "These would be a mix of keypad phones and the full touch phones," Hardip Singh, Executive Director, Optiemus Infracom told indianexpress.com. The company plans to release these upcoming BlackBerry-branded Android smartphones at various price points, a move aimed at reviving the BlackBerry brand in the Indian smartphone market. All the upcoming phones will be made available through different channels in India as well as Nepal, Bangladesh, and Sri Lanka.
The KeyOne was the first BlackBerry-branded smartphone manufactured by Optiemus under the licensing agreement signed in February. The device was slightly different when compared to the global variant of the BlackBerry KeyOne. PT BB Merah Putih in Indonesia has signed a similar agreement with BlackBerry. Meanwhile, TCL Communication has got the global mandate to manufacture and market BlackBerry-branded smartphones.
India has always been a good market for the iconic brand and even now there are more than a million active BlackBerry users in India, claims Singh. In its new innings, BlackBerry will not only target the top-end of the market but also the mid-end segment, a shift that will help the brand to make a promising comeback. But don't expect a BlackBerry-branded smartphone to hit the low-end market anytime soon. The branded phones will aim to sell on basis of better privacy, top-of-the-line specifications, and traditional BlackBerry aesthetics. For Singh, the BlackBerry brand is much more relevant in 2018 than what it was five years back.
Although Singh has been tight-lipped about the successor to the KeyOne, he did mention that the models planned with keypads would be a part of this family. Some of the smartphones with keypads are expected to arrive in Q2 of this year, though which model will hit the market first is still unknown. However, Singh made it clear that the company wants to make smartphones with keypads at different price points. When asked why the company is stressing on making a smartphone with a built-in physical keypad, Singh replied: "A traditionalist, BlackBerry loyalist still prefer a keyboard because there is no better way to type a mail or message on a phone with a physical keypad."
Meanwhile, the company has no plans to launch a BlackBerry-branded 4G feature phone in the near future. The company is open to the idea of rebooting classic BlackBerry phones, provided there is a "demand for a particular model or a type".
["Source-indianexpress"]