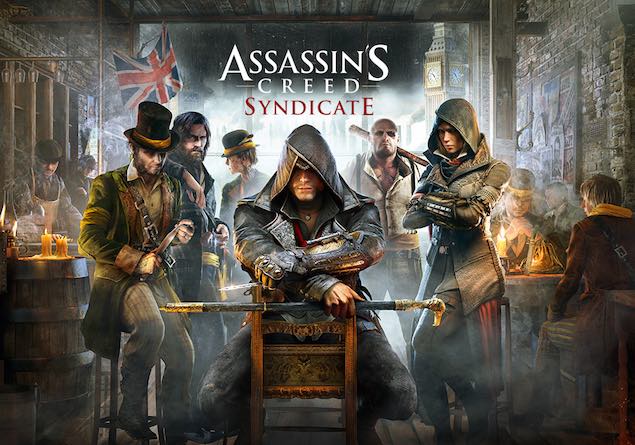 Few things are as certain as a new Assassin's Creed game each year. And while we've been treated to leaks over the past months that showed off Victorian London, it seems that Ubisoft has finally decided to officially reveal the next instalment in its open world historical fiction franchise, Assassin's Creed Syndicate.
Much like the leaks prior, it takes place in Victorian London around the time of the Industrial Revolution. You'll control Jacob and Evie Frye, twin sibling Assassins. Jacob, a determined, hot-headed, and rebellious leader of an underground gang, is vastly different than his sister Evie, a master of stealth and control. Together, Jacob and Evie team up to challenge rivals and Templars alike to free the masses from poverty and corruption, and, ultimately, wrest back control of London.
"The ability to lead an underground gang, commandeer any vehicle on hand, and use modern tools to take on an expansive and fast-paced Victorian London sets this game apart," said Marc-Alexis Côté, Creative Director at Ubisoft in a prepared statement. "Assassin's Creed Syndicate has been in development for more than two years and this new modern take on the living open world will please Assassin's Creed fans and newcomers alike."
Developed by Ubisoft Quebec in collaboration with eight other Ubisoft studios ( Ubisoft Montreal, Ubisoft Singapore, Ubisoft Annecy, Ubisoft Montpellier, Reflections, Ubisoft Chengdu, Ubisoft Shanghai, and Ubisoft Kiev), Assassin's Creed Syndicate has the most modern setting any game in the series has seen.
While the last entry in the series, Assassin's Creed Unity, was set during the French Revolution, it had an ambitious scale that few could match. Nonetheless, it was also replete with a plethora of technical issues that perhaps makes Assassin's Creed Syndicate a more manageable affair from a development standpoint. The gameplay footage shows some new additions like environmental kills, gang wars and a revamped hand-to-hand combat system. There will be no multiplayer this time around, the company confirmed.
Along with this, Ubisoft unleashed a slew of collector's editions for the latest instalment of Assassin's Creed. At the time of filing this, there's been no confirmation as to which of these special versions of the game would be making it to India. Given the popularity of the series, you could expect one or two of the five editions to make it.
For now though, the game is available on pre-order at Games The Shop, which is incidentally owned by the distributor of the game, E-xpress. Pre-ordering nets you the bonus Darwin and Dickens Conspiracy Mission. The PC version will set you back by Rs. 1,799 ($60 in the US) and has no release date yet, just a vague autumn 2015 window. The PlayStation 4 and Xbox One versions are Rs. 3,499 (also $60 in the US) each and are due on October 23.
["source-gadgets.ndtv.com"]