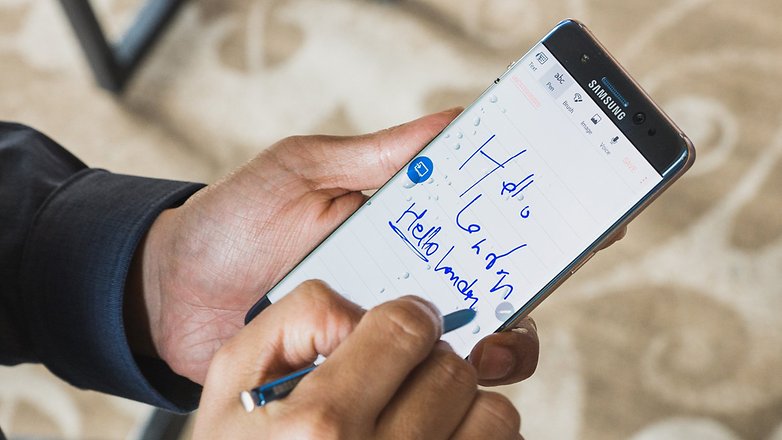 Major flagships have been presented in recent months, yet Samsung stands alone under the spotlight. You've probably noticed that the new Galaxy Note 7 is the star of the moment. But you know what? I won't be buying one.
Before you stop me in my tracks, I'd like to clarify one thing. The following argument is my personal opinion. Some AndroidPIT editors, mainly my colleague Pierre, probably disagree with me. That's a good thing because one strength of AndroidPIT is that our editorial team shares differing opinions on the same subjects.
Another thing I want to say – I'm not one of the Samsung 'haters'. Sure, I don't like everything it manufactures but, to be honest, there is no smartphone manufacturer that impresses me 100 percent of the time.
1. The price is nasty
We shouldn't pretend here. The main reason why people would not buy a Galaxy Note 7 is the price. At a time when bargains abound, Samsung insists on offering smartphones at exorbitant prices. After all, the price of Apple's smartphones is also high yet people continue to buy them. This premium price loop just seems to work for some.
But it's the law of supply and demand. Obviously if people are willing to pay such sums to buy the device, Samsung's shouldn't stop them. The problem here (and elsewhere) is that manufacturers – and society at large – create/exploit our desires. Once a person becomes a customer, convinced that they must buy a particular phone, he or she will be ready to fork out cash, thinking that the end justifies the means. Samsung finds the right balance in order to keep these customers: find the maximum price that people are willing to pay without making them feel ripped off.
My point here is that I do not want to invest $850 in a smartphone. This is a hefty price and seems excessive to me. I feel that the standard today is that we feel compelled to buy anything that's better or newer, with a focus more on desire than need. That said, everyone is free to buy whatever he or she wants.
Some of us just want to have fun buying a super smartphone, which brings us to the second point.
2. The Note 7 outperforms my needs
While reading the previous paragraphs, many of you probably thought that the design and specs of the Note 7 justify its price. In absolute terms, this is true. The device is excellent in many ways, and I must admit that grasping it is an experience worth trying. In terms of performance, it's true that some points are open to criticism, as XDA's Eric Hulse did in a recent article.
Of course, these figures are not 100 percent accurate, so it is possible that your usage might be a little different. That said, this shows one important thing: the daily business of many people does not involve extensive use of their phone's capabilities. Of course, you need good hardware to run games, but is it necessary to have the best equipment if a less powerful (and cheaper) component does the job? It's a bit of a 'buy a tank to kill a fly on the window' situation.
This does not include the Galaxy Note but all flagships – paying for so much untapped performance is not something I'd do. In my case, I use my smartphone mainly for calling, listening to music, messaging and even some apps, so I have no big expectations of performance and, therefore, don't really need a flagship. But the Note 7 has unique features: a stylus and an iris scanner. This may be a good selling point but is not useful for my needs.
Also, I appreciate the larger display because it's nicer to use, but I'd stick to a maximum of 5.5 inches, making the Note 7 too big for me at 5.7 inches. That said, the Chinese love large screens (up to 6 inches in some devices) so it is not impossible to see more and more manufacturers offer increasingly large behemoths of 6 inches.
3. TouchWiz…
This is purely a matter of taste. In my case, I'm not a big fan of TouchWiz. That said, TouchWiz has evolved. Do you remember the Galaxy S5 and the garish blue color? At that time, TouchWiz had a hideous interface and a mix of colors that was totally chaotic.
Fortunately, things have changed and TouchWiz has been greatly improved. We could already see the difference with the S6 and the S7, and things have changed again with the Note 7. Graphically, it is prettier to look at. And on the Note 7, menus have been reworked.
The effort is there, but for me TouchWiz remains TouchWiz. Color associations are always strange (a white icon on a bright yellow background, all in slightly rounded form…). We always find preinstalled apps (which have also been reduced in number, thankfully). As for Android Nougat, do not expect to have it for a while…unless Samsung decides to provide updates more quickly, of course.
For all these reasons, I find the Galaxy Note 7 very interesting but not enough to tempt me to buy it. How about you – do you plan to buy it?
[Source: Androidpit]