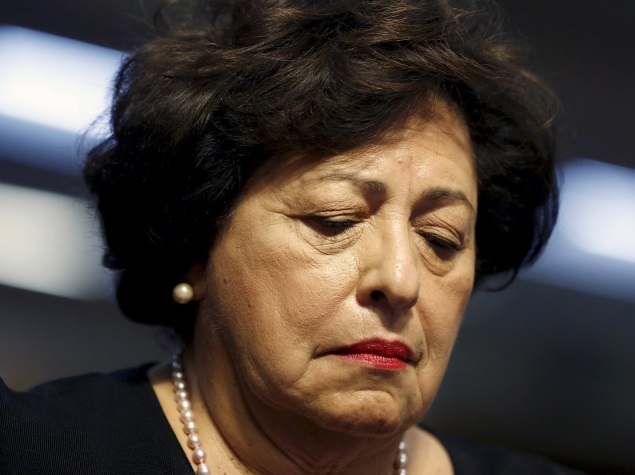 The chief of the US federal hiring office resigned on Friday after massive computer hacks at the agency that put the personal data of more than 22 million Americans at risk, including people seeking sensitive security clearances.The White House said Katherine Archuleta had stepped down as head of the Office of Personnel Management and that OPM was enhancing cyber-security measures, such as limiting the number of "privileged users" of computer data.
Archuleta, facing a chorus of demands from Congress for her ouster, said in a statement she had told President Barack Obama it was "best for me to step aside and allow new leadership to step in."
Beth Cobert, who works in the White House budget office, will become acting OPM director, the White House said.
The departure of Archuleta will not fix OPM's serious cyber-security weaknesses, which Obama administration officials conceded would take months, possibly years, to address.
Republicans in Congress accused the administration of being flat-footed on the growing problem of computer hacks. White House spokesman Josh Earnest told reporters it was conducting a "rapid assessment" of cyber-security measures with the aim of accelerating improvements.
The latest hacking revelation at OPM, revealed on Thursday, followed what the OPM called a "separate but related" computer incursion involving the theft of data on 4.2 million current and former federal workers.
(Also see:Data Hacked From US Government Dates Back to 1985: Official)
Because many of the same people were affected by both hacks, the total comes to about 22.1 million people, or almost 7 percent of the US population, making the incidents among the most damaging cyber-security breaches ever.
Social Security numbers and other sensitive data, including possibly compromising secrets gathered for security clearances, were stolen from OPM computers in the sweeping intrusions.
The United States has identified China as the leading suspect, but China's Foreign Ministry has dismissed that as "absurd logic."
Archuleta's departure came a day after Republican House of Representatives Speaker John Boehner issued a statement saying that he had "no confidence" in OPM's current leadership.
On Friday, Boehner, citing chronic problems at the Veterans Administration that led to the resignation of Secretary Eric Shinseki last year, said a change in personnel did not always lead to real change and Obama had to "repair" the OPM problems.
Archuleta, a high-ranking official in Obama's 2012 re-election campaign, was appointed to the top OPM job in May 2013 and sworn in the following November, becoming the first Latina to head the federal agency.
The computer hacks at OPM, coupled with computer glitches this week that disrupted operations at both the New York Stock Exchange and United Airlines, have raised serious concerns in Congress about the security of major U.S. computer systems.
In a related matter, arrangements for granting security clearances to employees and contractors have been seriously affected since a computer system used to receive and process applications was turned off temporarily on June 29, government security sources said.
The digital system, called E-QIP, had been the main platform through which applicants submitted detailed information about their background on a questionnaire known as Standard Form 86. The system was shut down for security enhancements.
A source familiar with the process said there were now serious problems handling the flow of paper forms, and concern that digitising them could expose them to the risk of hacking.
A senior Obama Administration official acknowledged that the process had been "hindered" by the E-QIP shutdown but said the digital system would be restored in four to six weeks.
["source – gadgets.ndtv.com"]