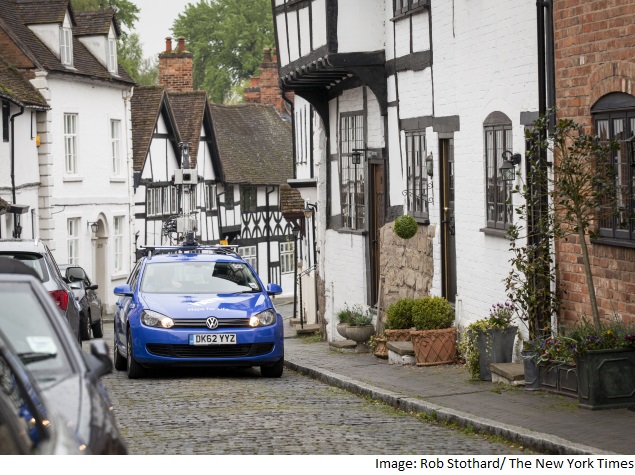 Uber is best known for allowing people to book a taxi through its smartphone application. But the fast-growing company has far broader ambitions.
More and more, Uber is positioning itself as a logistics company. The goal is to deliver people and things within cities as quickly as possible – relying heavily on Google Maps in the process.
That dependency may soon change.
Uber has submitted a bid for Here, the main competitor to Google Maps, for as much as $3 billion (roughly Rs. 19,250 crores), according to three people with knowledge of the offer, who spoke on the condition of anonymity. Here is owned by Nokia, the Finnish telecom giant, which announced last month it was considering selling the business.
The bid is competing with one in the works from a consortium of German automakers, including BMW, Audi and Mercedes-Benz, according to two of those people. The automakers are teaming up with the Chinese search engine Baidu on the offer, the people said. A separate bid from an undisclosed private equity firm has also been submitted, and Nokia is expected to announce the sale of its mapping unit by the end of May.
Negotiations over the sale are continuing, and the talks still may not lead to a deal, the people cautioned. Representatives for Uber, the German automakers and Nokiadeclined to comment on the deal rumors.
The multibillion-dollar battle to buy Here highlights the growing importance of digital mapping services as companies connect their products to the Internet. Other tech giants, including Facebook and Microsoft, have previously shown interest in acquiring Nokia's mapping unit.
The world's automakers and tech giants like Google have unveiled a series of driverless car projects that rely heavily on up-to-date road data. Companies likeAmazon and FedEx use mapping information to run their global logistics operations. And tech startups, including Uber and Airbnb, the vacation-rental website, have incorporated digital maps into the heart of their businesses.
While Google Maps has an estimated 1 billion mobile users, or about 10 times the amount of Here's smartphone users, Nokia's division dominates in automobile mapping – a field in which both Google and Apple, which has struggled with its own mapping service, have earmarked for growth.
Nokia's mapping business holds more than an 80 percent global market share for built-in car navigation systems and spends hundreds of millions of dollars each year to update its maps, which span from New York to New Delhi. Here, which is based in Berlin, employs about 6,000 people worldwide to maintain Nokia's digital maps and connected-car services, with almost 3 million daily adjustments. The unit reported yearly revenue of $1.1 billion, or less than 8 percent of Nokia's total sales in 2014, according company records.
"It's extraordinarily difficult to get this type of mapping data," said Jamie Moss, an analyst at the technology research company Ovum in London. "Other than Google, Here is one of the few companies that can offer this data right now."
Analysts said Here would give Uber access to a fully established digital mapping business.
The mapping tool, they say, could help with services like Uber Pool, the company's ride-sharing initiative, which uses geospatial mapping data to pair riders with drivers. To carry out such matches speedily, the company needs significant engineering power and a rich trove of mapping data, according to people with knowledge of the project.
In addition to Google Maps, Uber relies on data from Apple and other companies' mapping initiatives, as well as its own online information.
Uber, whose backers include Google's venture capital arm, has taken steps in recent months to hedge against its heavy reliance on the search giant. This year, for example, the company unveiled the Uber Advanced Technologies Center that, in partnership with Carnegie Mellon University, is working on mapping and autonomous vehicle technology.
And in March, Uber acquired deCarta, an almost decade-old mapping software company based in San Jose, California, to bolster its mapping efforts. The company also has hired a number of mapping software engineers in recent months, according to two people familiar with Uber's hiring efforts.
The company's plans, however, may still be outflanked by the German automakers, which also view Nokia's mapping business as central to their future.
Mercedes and other automakers already are testing so-called autonomous vehicles that rely on Here's technology to guide cars around city streets with limited intervention from drivers. They are reluctant to become overly dependent on Google Maps, which offers similar services, particularly because Google is working on autonomous vehicles of its own.
As part of its bid, the German consortium wants to give others access to Nokia's mapping service, under a licensing agreement, so that the business can maintain its global reach and remain the primary competitor to Google Maps, according to a person with knowledge of the matter.
"Mapping data is an important long-term asset for the auto industry," said Jeremy Carlson, an analyst at IHS Automotive, in Los Angeles. "It makes sense that they would want to protect it."
["source-gadgets.ndtv.com"]