The Way Humans Get Electricity Is About to Change Forever
The renewable-energy boom is here. Trillions of dollars will be invested over the next 25 years, driving some of the most profound changes yet in how humans get their electricity. That's according to a new forecast by Bloomberg New Energy Finance that plots out global power markets to 20401.
Here are six massive shifts coming soon to power markets near you:
The price of solar power will continue to fall, until it becomes the cheapest form of power in a rapidly expanding number of national markets. By 2026, utility-scale solar will be competitive for the majority of the world, according to BNEF. The lifetime cost of a photovoltaic solar-power plant will drop by almost half over the next 25 years, even as the prices of fossil fuels creep higher.
Solar power will eventually get so cheap that it will outcompete new fossil-fuel plants and even start to supplant some existing coal and gas plants, potentially stranding billions in fossil-fuel infrastructure. The industrial age was built on coal. The next 25 years will be the end of its dominance.
2. Solar Billions Become Solar Trillions
With solar power so cheap, investments will surge. Expect $3.7 trillion in solar investments between now and 2040, according to BNEF. Solar alone will account for more than a third of new power capacity worldwide. Here's how that looks on a chart, with solar appropriately dressed in yellow and fossil fuels in pernicious gray: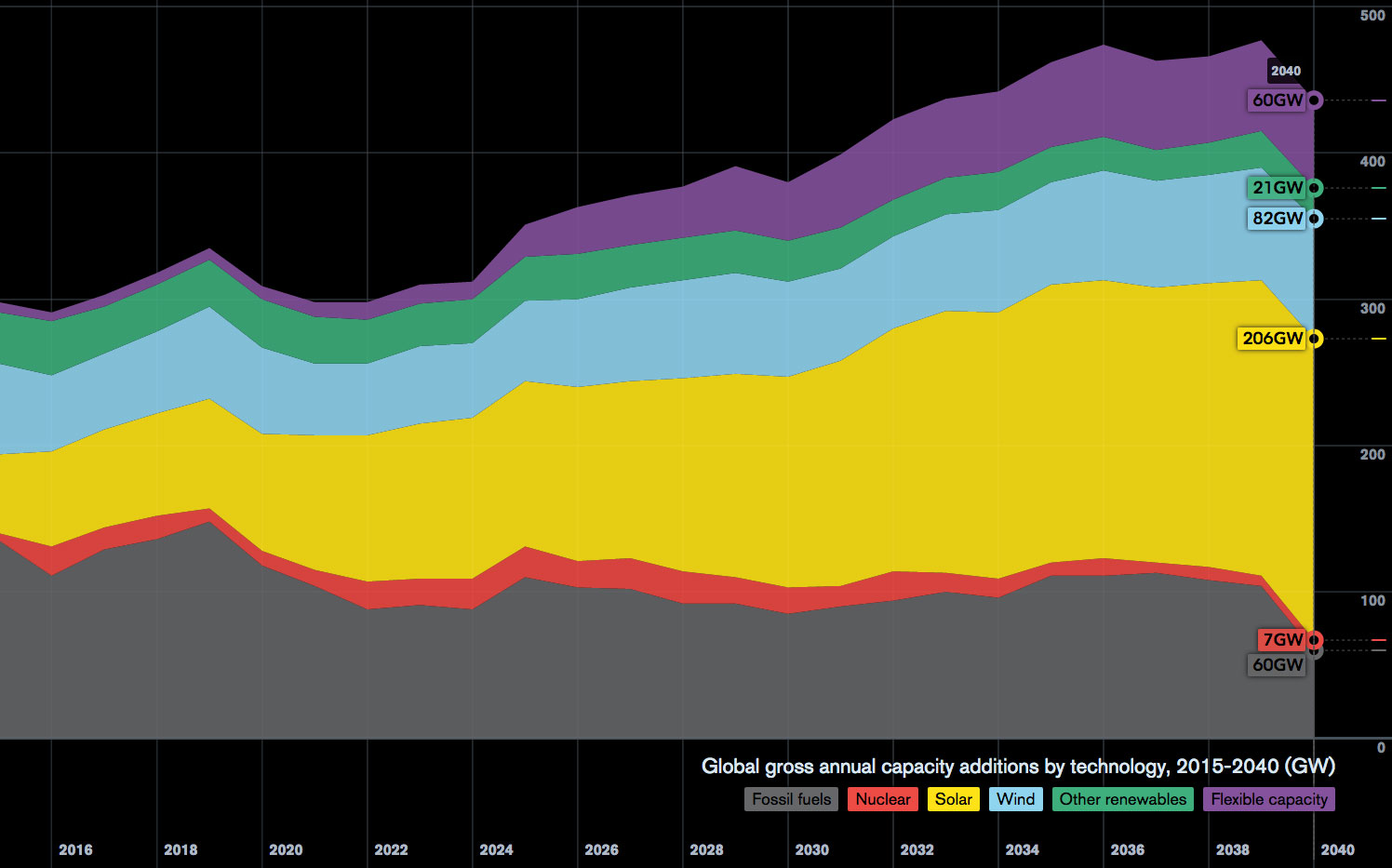 3. The Revolution Will Be Decentralized 
The biggest solar revolution will take place on rooftops. High electricity prices and cheap residential battery storage will make small-scale rooftop solar ever more attractive, driving a 17-fold increase in installations. By 2040, rooftop solar will be cheaper than electricity from the grid in every major economy, and almost 13 percent of electricity worldwide will be generated from small-scale solar systems.
$2.2 Trillion Goes to Rooftops by 2040

[SOURCE- "bloomberg.com"]