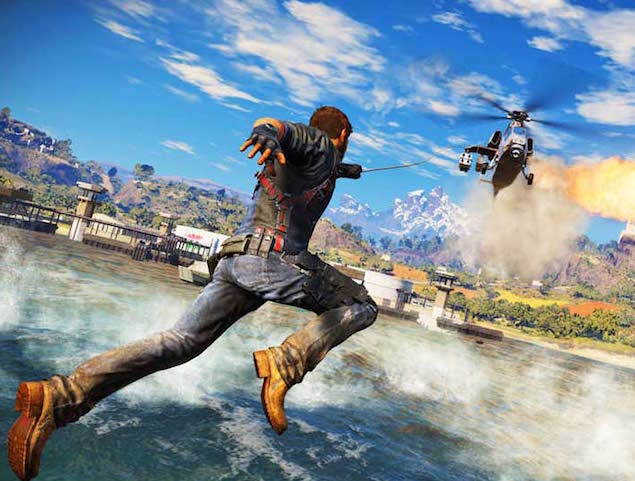 A lot of what Square Enix showed off at its E3 2015 conference was already known. These include Rise of the Tomb Raider, Final Fantasy VII being remade, Hitman, and World of Final Fantasy, all of which found their way on one prior E3 conference or another. Nonetheless, the company still had a few tricks up its sleeve to make its event interesting. Here's what you need to know.
1. Just Cause 3 is a symphony of explosions and it has a release date
Headlining the show was Avalanche Studios' Just Cause 3. We were treated to a gorgeous trailer that featured a wealth of gameplay emphasising on its open world nature. New additions include being able to string together a motley assortment of items such as helicopters, missiles and cars together with it's new and improved grappling hook to cause carnage galore. This was undoubtedly one of the better games showcased at E3 2015 and the December 1 release date serves to sweeten the deal.
2. Deus Ex: Mankind Divided looks like it might need more time
The latest in the revered first-person shooter and role-playing series, Deus Ex: Mankind Divided had its first gameplay trailer outing. It runs on new tech called the Dawn Engine. While all the trappings of cyberpunk goodness were present, the surprising frame rate drops made us think it's nowhere close to the early 2016 release window planned by Square Enix. Nonetheless, given that Eidos Montreal, the studio responsible for it did a great job with 2010's Deus Ex: Human Revolution, we're hoping it ships in a better state.
3. Kingdom Hearts 3 lives
After much teasing and waiting, Square Enix finally showed off its progress on Kingdom Hearts 3- the latest instalment in its cross-over series featuring Final Fantasy and Disney characters. Combat looked fluid and the environments felt vibrant. While we're still far away from a release date, it's heartening to know that one of the company's oft-delayed projects is slowly pacing towards the finishing line, if the footage was any indication.
4. The new Hitman game has a release date
Simply titled Hitman, it's out December 8 on PC, PS4, and Xbox One. This is the first game in the series to be out digitally first. At Sony's conference, it was known that PS4 owners will get an exclusive pre-order bonus beta and six missions released through the year. While there's little information in the way of it's single-player campaign, what information offered by Square Enix seems to imply that the world of Hitman will be everchanging, with steady stream content pushed out on a regular basis in order to keep players in a "live and ever expanding world of digital assassinations." Don't be surprised if it ends up being something completely different from the story modes of earlier games in the series.
5. A return to its RPG roots?
Square Enix also announced a slew of role-playing game (RPG) related announcements. For one, cult classic Nier will see a sequel manned by PlatinumGames (responsible for critically acclaimed games like Vanquish and Anarchy Reigns). Tri-Ace, the company behind the Star Ocean series of sci-fi RPGs will release the oddly titled Star Ocean: Integrity and Faithlessness for the PS4 next year. But most telling was the announcement of the formation of a new studio called Tokyo RPG Factory. It is working on a console RPG codenamed Project Setsuna. Little else is known at the moment but it's heartening to see the company trying to return to its traditional, console RPG roots.
6. AAA mobile game experiences
It appears that Square Enix was unaware of the audience reaction to the mobile game segment of EA's E3 2015 press conference. The company announced a few smartphone games albeit minus release dates. Thankfully these announcements were few and some of them even useful. Hit RPG Final Fantasy VII will find its way to iOS this Summer. Kingdom Hearts Unchained, a port of the Japanese-only browser game Kingdom Hearts X will hit iOS and Android eventually. No release date was given. The same applies to Lara Croft Go, a puzzle adventure game sporting a similar aesthetic to the superlative Hitman Go
["source-gadgets.ndtv.com"]