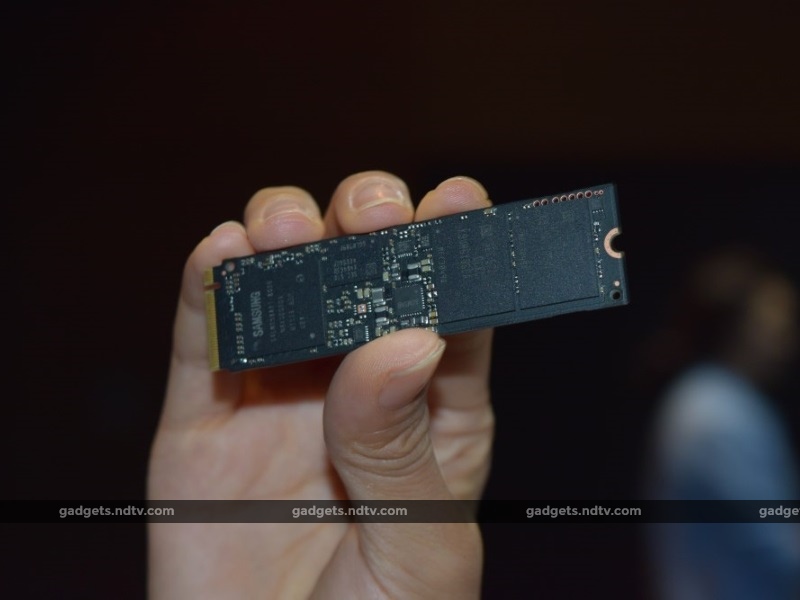 Samsung has announced its new V-NAND SSD 950 PRO for the high-performance consumer market. The company's latest SSD ditches legacy the SATA connector and AHCI protocol, and will be available only in M.2 form factor units. 256GB and 512GB models will be available when the drive goes on sale in October, priced at $199 (approximately Rs. 13,100) and $349 (approximately Rs. 22,960) respectively. Higher capacities will be launched in the future.
The unveiling occurred at the company's annual SSD Global Summit event in Seoul, South Korea. Samsung is calling it "a clean break from the past", with stated performance figures that give it an advantage of up to 4.5x over the SSD 850 PRO. Sequential read rates are up to 2200MBps and 2500MBps for the 256GB and 512GB models respectively, up from 550MBps (the peak theoretical limit of SATA 3 is 600MBps). Sequential writes are up from 520MBps on the SSD 850 PRO to 900MBps and 1500MBps for the 256GB and 512GB models respectively. Random read speeds see claimed improvements of 2.7x and 3x while random writes are not affected much.
The drive will not be available in standard SATA form mainly because of the lack of support for the legacy AHCI protocol, which was designed for much spinning hard drives. Samsung points out that while AHCI supports a single command queue with up to 100 commands, the move to NVMe will enable up to 64,000 queues with 64,000 commands each.
The V-NAND SSD 950 PRO will be able to take advantage of four PCIe lanes of bandwidth, which is supported on Intel's recently launched Skylake platform. A motherboard with an M.2 slot that supports M-keyed modules will be required. The 22x80mm module is also suitable for ultra-thin laptops. A specific driver will be required. Windows 10, 8.1 and 7 will be supported at launch time, with Windows Server and Linux added to the list in the future.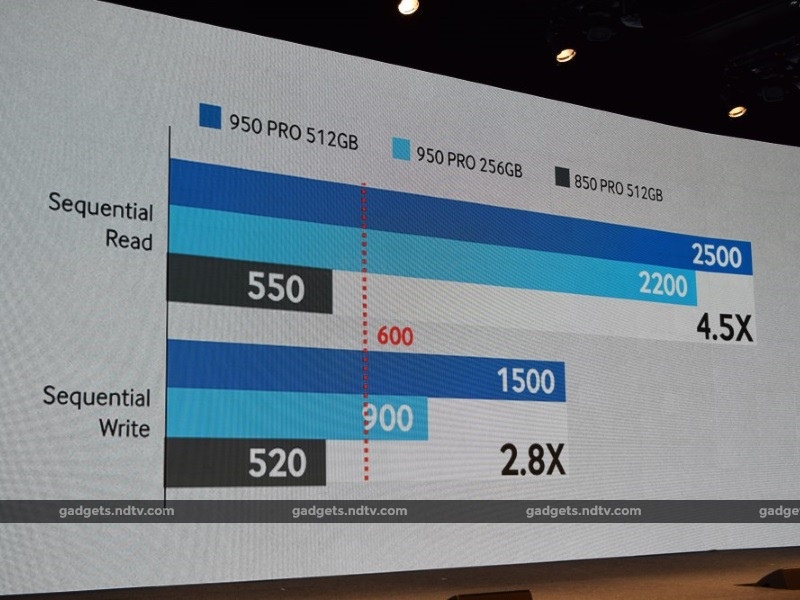 The new device will be based on the company's second-generation 3D NAND, rather than the recently unveiled third generation. A transition will occur across the consumer product lineup in early 2016, at which point higher capacities will be possible. The existing SSD 850 PRO and EVO models will be boosted to 4TB, while a 1TB version of the diminutive M.2 SSD 850 EVO will also become available for the first time.
Samsung has lowered the warranty to five years, compared to 10 years for the SSD 850 PRO, but has boosted the amount of usage covered to 200TB written for the 256GB model and 400TB written for the 512GB model.
Samsung also announced more concerted efforts to brand and promote its SSD offerings, starting with the incorporation of the V-NAND trademark into its product naming scheme. The company will stop referring to its flash technology as 3D V-NAND in an attempt to simplify its messaging.
The company projects a total global demand of 84 billion gigabytes of NAND flash by the end of 2015 – the equivalent of 336 million 256GB SSDs. That number is set to grow to 209 billion gigabytes by 2017. The current biggest NAND flash demand comes from the mobile and data centre segments. The consumer cost of SSDs, which currently stands at $0.38 (approximately Rs. 25) per gigabyte is also projected to reduce by 20 percent each year.
["source-gadgets.ndtv"]