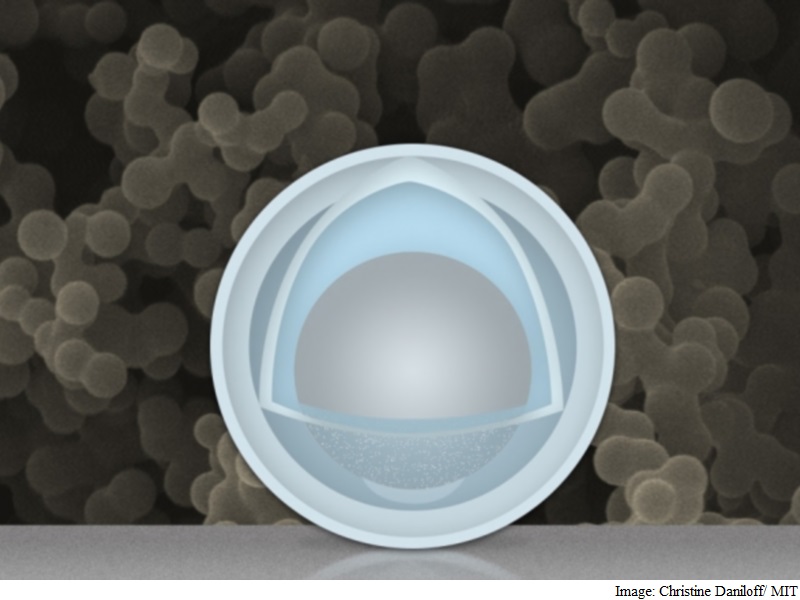 One big problem faced by electrodes in rechargeable batteries, as they go through repeated cycles of charging and discharging, is that they must expand and shrink during each cycle – sometimes doubling in volume, and then shrinking back. This can lead to repeated shedding and reformation of its "skin" layer that consumes lithium irreversibly, degrading the battery's performance over time.
Team of researchers at MIT and Tsinghua University in China has found a novel way around that problem: creating an electrode made of nanoparticles with a solid shell, and a "yolk" inside that can change size again and again without affecting the shell. The innovation could drastically improve cycle life, the team says, and provide a dramatic boost in the battery's capacity and power.
Researchers at the Massachusetts Institute of Technology and Tsinghua University in Beijing found that the metal could expand and shrink freely by encasing the aluminium inside a shell. The battery has four times the capacity of current lithium-ion batteries and degrades less over time. It uses nanoparticles with a shell of titanium dioxide wrapped around aluminium, which acts as the battery's negative electrode.
The research overcomes previous problems experienced using aluminium in rechargeable lithium-ion batteries. The result is an electrode that gives more than three times the capacity of graphite (1.2 Ah/g) at a normal charging rate, Li says. At very fast charging rates (six minutes to full charge), the capacity is still 0.66 Ah/g after 500 cycles. The materials are inexpensive, and the manufacturing method could be simple and easily scalable, MIT professor Ju Li says.
The study was published in the journal Nature Communications. The research team included Sa Li, Yu Cheng Zhao, and Chang An Wang of Tsinghua University in Beijing and Junjie Niu, Kangpyo So, and Chao Wang of MIT. The work was supported by the National Science Foundation and the National Natural Science Foundation of China.
["source-gadgets.ndtv"]