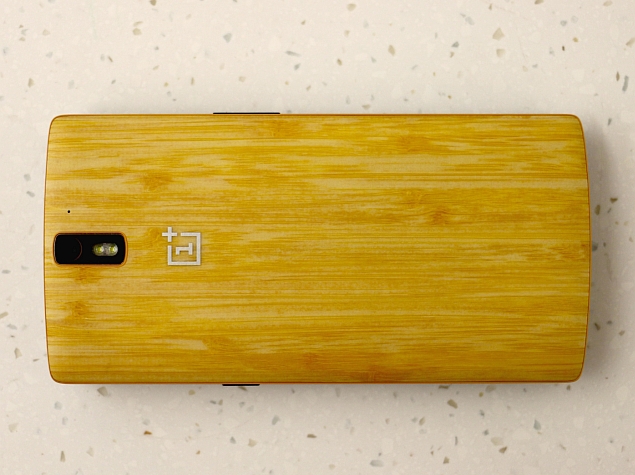 OnePlus continues to reveal its OnePlus 2 smartphone specifications, this time not via its forum or social media channels, but through a Reddit AMAA (Ask Me Almost Anything) session on Thursday. The session comprised of company executives – Michael, Emmanuel, Carl Pei (co-founder), and David on Thursday, revealing some new features of the upcoming handset.
What we can see from the lengthy session on the forum is that OnePlus 2 will be compact in size as compared to OnePlus One. One of the executives posted an image (seen above) of the OnePlus One beneath which OnePlus 2 is kept, suggesting a smaller form factor. It is not yet clear whether the display size has also been tailored accordingly, or is the same 5.5-inch that was been tipped in the recent past.
The firm has managed to pack almost 10 percent more battery capacity on the OnePlus 2 despite its compact size. The smartphone will be backed by a 3300mAh battery, as compared to OnePlus One's 3100mAh one. While the camera details were not mentioned, the executives did say that the camera has "a bunch of things that we believe will set the OnePlus 2 apart."
OnePlus' Michael added that for OnePlus 2, there has been very extensive testing of the touchscreen, and it will not misbehave as it did on OnePlus One. On the software side, the company has tried to keep the Oxygen OS as close to stock Android as possible for ease of use.
In the AMAA session, Pei confirmed that OnePlus 2's charging cable would be there in both 5 feet and 3.3 feet sizes. As for the handset's design, Pei said that, "Hardware has been locked for a while. We're just about to exit design verification stage, still tweaking the last few fit & finish details but no major design changes." Also, OnePlus 2 would be missing out on a heart rate sensor and a front-facing fingerprint sensor.
We already have seen OnePlus 2 in three different versions – A2001, A2003, and A2005 – with two variants making it to benchmark testing and another for certification. However, the firm has now cleared the air, stating that out of the three, one will be China-specific, while the other two will be international models. One of the two international models will reach North America, while the second one will be for Europe and Asia. One of the differences between the models will be the network band support. The NA version will support GSM 850, 900, 1800, 1900MHz, WCDMA bands 1/2/4/5/8, and FDD-LTE bands 1/2/4/5/7/8/12/17. The Europe and Asia variants will come with GSM 850, 900, 1800, 1900MHz, WCDMA bands 1/2/5/8, and FDD-LTE bands 1/3/5/7/8/20. Surprisingly, no mention has been made of support for TDD-LTE Band 40 (2300MHz), which will be a glaring omission if an Asia-variant with those bands is launched in India. The country's operators currently offer 4G LTE only on the TDD-LTE 2300MHz Band 40, and the FDD-LTE 1800MHz Band 3 rollout it only expected to happen later this year.
Lastly, the firm promised to keep its OnePlus One available in markets after the OnePlus 2 launch. Like the current model was initially offered, OnePlus 2 will also be available via the company's "improved version of the invite system" and the early supporters will be prioritised.
The company has already revealed that its second flagship smartphone, the OnePlus 2, will be launching on July 27 and the announcement will be made at a virtual reality event. The OnePlus 2 will be priced between $322 (roughly Rs. 20,500) and $450 (roughly Rs. 28,500), would feature a fingerprint sensor, a Qualcomm Snapdragon 810 v2.1 SoC, USB Type-C port, 4GB LPDDR4 RAM, and most probably, a metal build.
["source – gadgets.ndtv.com"]