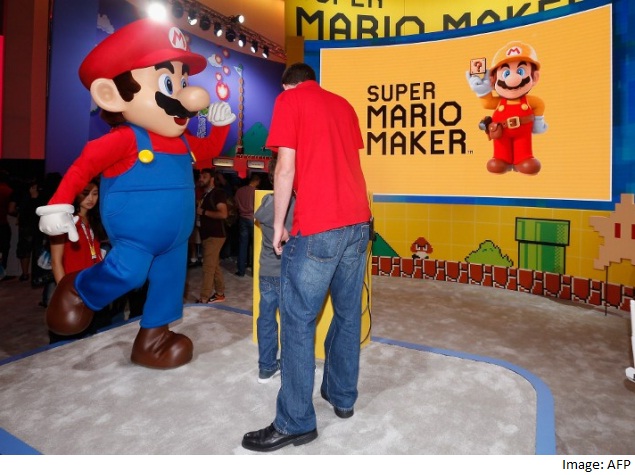 Nintendo played to "Super Mario" fans on Tuesday while talking transformation as the Japanese video game giant strived to regain momentum.
"If there is a secret to the longevity of Nintendo franchises, it is transformation," Nintendo of America president Reggie Fils-Aime said during a presentation streamed online before the show floor opened at an Electronic Entertainment Expo (E3) video game extravaganza here.
"We never let them stand still."
While console rivals Xbox One and PlayStation 4 were stars of theatrical E3 media events in Los Angeles a day earlier, Nintendo opted to go digital for the second year.
Xbox and PlayStation consoles from Microsoft and Sony, respectively, are known for immersive, action-packed games nearing film quality while Nintendo has built a devoted following for closely-protected franchises such as Mario and Legend of Zelda.
But the one-time industry titan has long been criticized for its refusal to license some of its iconic brands for use on mobile applications.
In a sign that Nintendo may be loosening its grip a bit, Fils-Aime announced a partnership with Activision to add "Donkey Kong" and "Bowser" characters to the video game publisher's successful Skylanders line-up.
Skylanders has been a hit with real-world figurines embedded with chips that synchronize them to arena-style platforms plugged into consoles, essentially letting youngsters carry about customized champions they can drop into on-screen games.
Donkey Kong and Bowser will have vehicles and be part of a Skylanders SuperChargers offering from Activision in September. The play pieces will also work as "amiibos" in compatible Nintendo games.
Super mario turns 30
Nintendo also said it will mark the 30th anniversary of its iconic "Super Mario" franchise this year with the release in September of a game that will let people create their own levels for play.
The Japanese video game stalwart on Tuesday launched a LetsSuperMario.com website where lovers of the franchise can upload video tributes.
Fils-Amie said that Nintendo's transformation includes broadening out into theme parks, mobile devices, and even a new dedicated game platform about which it will reveal more next year.
At E3 this week, Nintendo will provide early looks at new installments to beloved franchises including Star Fox, Yoshi, Metroid, and Mario & Luigi.
(Also see:Nintendo's E3 2015 Event Highlights: Super Mario Maker, Star Fox Zero, Zelda, and More)
Nintendo's offerings were tailored for Wii U and its 3DS handheld gaming devices that have lost luster as lifestyles turn to play on smartphones or tablets.
The Kyoto-based company hopes to offset weakening demand for its 3DS portable game system with plans to jump into the booming smartphone games market — a long awaited departure from its consoles-only policy.
"A new source of revenue is expected from a gaming application for smart devices which will be released this year," Nintendo said after releasing earnings figures in May.
In March, Nintendo unveiled plans to buy a stake in Tokyo-based mobile gaming company DeNA as part of a deal to develop smartphone games based on Nintendo's host of popular characters.
Fils-Amie described Nintendo's E3 line-up as "familiar characters and franchises transformed in unexpected ways that can only be found on Nintendo systems
["source-gadgets.ndtv.com"]