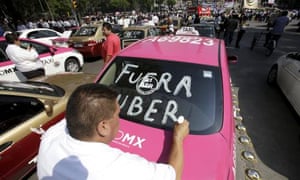 Hundreds of taxi drivers marched through Mexico City on Monday, chanting "Uber Out!" and demanding city authorities ban the online ride service. Some drove their pink-and-white cabs in ranks, snarling traffic along the city's main boulevard.
The drivers say Uber and other ride-sharing services evade the tax, registration and safety laws to which regular cabs are subject.
Taxi drivers' leader Eleazar Romero told the rally: "We are not against technology. We just want a level playing field, we want everyone to follow the same tax rules we do."
Taxi leaders apologised for affecting traffic, but claimed they were facing unfair competition. Uber responded on its blog by offering Mexico City commuters free rides on Monday, saying: "If Mexico won't stop, Uber won't stop." It said commuters could take up to two rides worth about $10 for free.
On Twitter, the hashtag #Ubersequeda – literally, "Uber is sticking around" – was one of the top trending topics in Mexico, though there is a rival hashtag, roughly "Uber is going", used by people who oppose the service.
Mexico City officials have said they will study ways to regulate the app, but also stressed that regular, medallion cabs should bring themselves up to date and use apps as well.
Mexico City medallion cabs are sometimes poorly maintained, and have frequently been implicated in assaults on passengers and overcharging.
["source-theguardian.com"]