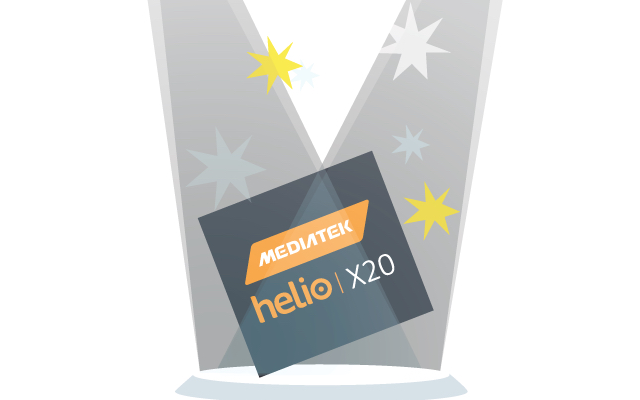 MediaTek is primarily known as a provider of budget chips for low-end to midrange smartphones and tablets. To date, these chips have mostly been functional but unexciting—four- or eight-core designs based on ARM's Cortex A7, A17, or A53 architectures, all three of which are optimized for power consumption rather than high performance.
As MediaTek has grown, its chips have slowly become more ambitious, and today's announcement is its most interesting yet. The new 20nm Helio X20 SoC combines 10 (!) ARM CPU cores with a high-end ARM Mali GPU and a Cat 6, CDMA-compatible LTE modem. It's not going to be the fastest SoC you can buy, but two of those cores are based on the high-performance 64-bit Cortex A72 CPU architecture, suggesting that MediaTek has ambitions beyond the low-end phone market.
AnandTech reports that this 10-core CPU isn't quite like the big.LITTLE SoCs we've been seeing from MediaTek and others the past few years. The X20 (also known as the MT6797, though MediaTek is thankfully moving away from model numbers toward the clearer "Helio" branding for its SoCs) uses four 1.4GHz Cortex A53 cores for power efficiency and two 2.5GHz Cortex A72 cores for maximum performance. In between the two are four 2.0GHz Cortex A53 cores meant to balance performance and power consumption. These cores are by MediaTek's Coherent System Interconnect (MCSI for short), which may or may not be based on a standard ARM interconnect like the CCI-500.
According to MediaTek, these "medium" cores fill a gap between the little ones (which aren't always fast enough) and the big ones (which can burn through power too quickly). They'll also free up the big and the little cores to specialize more—MediaTek wants even higher peak performance from big cores and even lower power consumption from little cores, widening the gap between them to open up a middle ground where these medium cores can prove their worth. The company claims a 30 percent reduction in power consumption relative to a more conventional big.LITTLE design.
Finally, a single Cortex-M4 coprocessor has been included to handle even lower-power activities, including interfacing with sensors (think Apple's M7 or M8), "low-power MP3 playback," and always-on voice controls (think the Moto X and voice features supported by more recent Snapdragons).
On paper, that gives the X20 graphics and media capabilities broadly comparable to what Qualcomm is shipping in the Snapdragon 808. Given that the 808 is shipping now and this won't ship until later this year, the upcoming Snapdragon 618 and 620 will probably be its closest competitors.
As good as its CPUs and GPUs (usually) are, Qualcomm's modems have historically kept it ahead of its competitors, especially in the US market. MediaTek is trying to close that gap with the integrated modem in the Helio X20, a Cat 6 LTE modem with carrier aggregation support and maximum download and upload speeds of 300Mbps and 50Mbps, respectively. More importantly, this is MediaTek's first modem with CDMA support—this is the most important in the US, where it assures compatibility with Verizon's mobile network. Single-stream 802.11ac Wi-Fi, Bluetooth, and a GPS round out the most significant wireless capabilities.
The Helio X20 is scheduled to sample in the third quarter of 2015 and will begin to show up in consumer devices by the end of the year. From what we see here, Qualcomm is still going to maintain its lead at the high end in CPU, GPU, and modem speed. But so much of the smartphone segment's growth is being driven by midrange and low-end devices these days that the Helio X20, the low-end Helio X10, and the MT8173 tablet SoC all present a credible threat to Qualcomm's market share.
["source-arstechnica.com"]