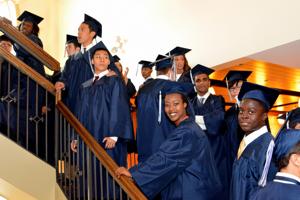 Contagious excitement filled Calvary Church as the Manheim Township High School Class of 2015 filed in from both sides of the sanctuary.
As the students made their grand entrance from the balcony down to the pews, parents, grandparents and friends called out and waved to the soon-to-be-graduates for one last look at the high school seniors.
The commencement ceremony was riddled with diverse components from traditional speeches and awards to musical presentations and student video.
Thematic senior presentations entitled "Virtually Us" were delivered to a technology-centric crowd.
As each speech was given, cell phones snapped photos, and students immediately uploaded the shots to social media networks.
Be impacted — not consumed — by the generational leaps and bounds of technology, said seniors Lourie Pena, Katherine Stahl, Anna French and Brynn Hackett.
"We have a choice," French exclaimed, "between living up to unattainable perfection or embracing the world around us and accepting who we are."
As a montage of memories from the past four years moved across the screen, Hackett spurred her classmates on, asking, "What can we do to radically change our world?"
"Pour more of your energy into conversations and experiences and less into filters and Vines," she continued.
A sea of 369 graduates in navy blue gowns sat in anticipation of the future.
Principal Deborah Mitchell presented an inspiring speech to a captive audience before certifying the graduating Class of 2015.
"All of you will encounter crossroads in your lives. Choose your path based on your goals, hopes and dreams," she said.
The crowd erupted in applause as the Class of 2015 moved their tassels and tossed their mortarboards.
["source-lancasteronline.com"]