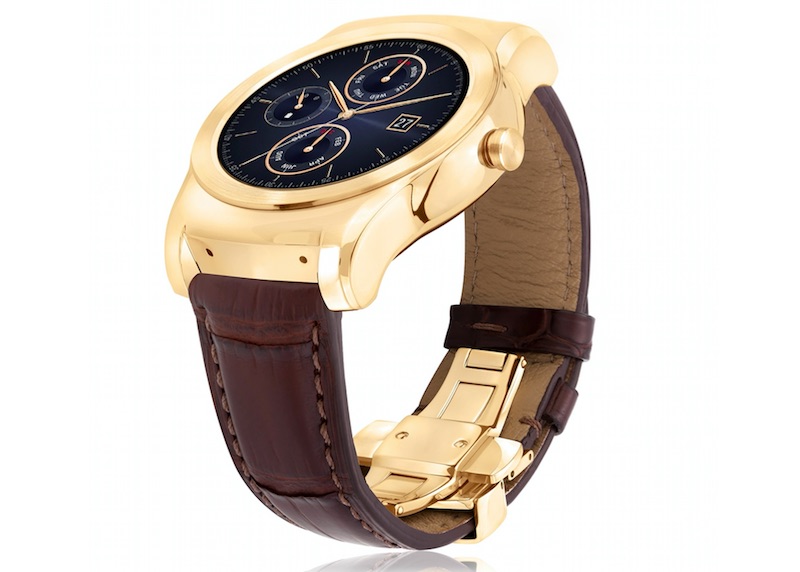 If you ever craved for a luxury Android Wear smartwatch, LG has got something for you. The South Korean technology conglomerate on Monday announced a special limited edition variant of its smartwatch, called the LG Watch Urbane Luxe. Featuring a 23-karat gold-plated body, the smartwatch will retail for approximately $1,200 (roughly Rs. 79,500), and has been made in collaboration with US-based Reeds Jewelers. Rest of the technical specifications remains the same as the Watch Urbane which was announced at Mobile World Congress in February.
The Android Wear-powered LG Watch Urbane Luxe comes with strap made of alligator leather, and is being housed in a "piano-gloss lacquer case." The 23-karat gold plated body offers more sturdiness than the 24-karat gold used in jewellery, and is also heavier than the 18-karat gold used in traditional luxury watches, LG noted. In addition, the watch sports a deployment clasp, based on the technology invented by Louis Cartier in 1910.
"Wearable devices shouldn't be thought of as an extension of one's smartphone but an extension of oneself," said Chris Yie, vice president and head of marketing communications for LG Mobile Communications Company. "This blending of craftsmanship and technology is a natural evolution of the smartwatch, which is becoming more of a lifestyle accessory than a piece of hardware. We think this is a good direction for wearables and we want to encourage this transformation."
The LG Watch Urbane Luxe is now available for pre-order in the United States via the Reeds Jewelers website, and will go on sale at the end of October. LG says each of the 500 limited edition smartwatches will be engraved with its own serial number. The company announced that it would soon make it available in other regions as well. The watch will be on demonstration at IFA 2015 trade show event which kick starts on September 4.
["source-gadgets.ndtv"]