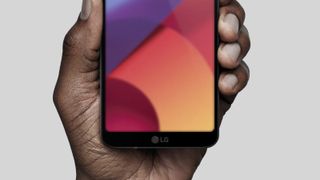 The LG G6 was recently unleashed onto the world, but we've already started thinking about its successor, the LG G7.
What will it look like, what'll be inside, and will LG finally cut it out with the region-specific features? Let us get started.
Below, you'll find the developing story of the G7 as we know it through rumors, leaks and confirmed news. And of course, we've added our own two cents as to how we hope next year's flagship comes together.
Cut to the chase
What is it? LG's 2018 flagship smartphone
When is it out? Spring 2018, most likely
How much will it cost? Like the G6, the G7 will be around $729 (about £568, AU$967)
LG G7 release date and price
The LG G7 launch date is likely to happen at MWC 2018, so we're likely to see it on or around Sunday, February 25, 2018.
That's our best guess based on the fact that both the LG G6 and LG G5 were launched at MWC. The Barcelona conference is a big, easy venue for LG to gain worldwide attention.
If you're a year into your carrier's two-year contract, you'll be in prime position to snag the G7 when it comes out in the Spring season. However, it won't be cheap. In line with other LG flagships, we expect it cost north of $700 at retail, around $729 ((about £568, AU$967). It's a lot of cash, but as much as some others. The Samsung Galaxy S8, for example, retails at $750
LG news and rumors
All quiet on the rumors so far, but it won't be long until they begin coming in heavy, as they always do. So, keep up a look-out for that. But in the meantime, there are some educated guesses we can take that are likely to ring true with the next flagship.
The LG G6's Snapdragon 821 is a fine chipset in its own right, but when compared to the newer Snapdragon 835, which debuted in the Samsung Galaxy S8, it's old hat. With this in mind, the company will likely try to be among the first to adopt whatever's next, rumored to be the Snapdragon 845, even if the Samsung Galaxy S9 has it, too.
Chipset aside, there's a lot about LG's 2018 flagship that can probably be gleaned from the G6. Considering that it was the first major smartphone to release with small bezels and a 18:9 aspect ratio, signs point favorably to the next phone keeping in line with that general design philosophy: a large, tall screen inside of a compact build.
However, what it will look like piece-by-piece is, right now, a complete mystery. Today's best practices in flagship smartphone manufacturing aren't likely to change all that much going into 2018, so expect to see a fair share of curvature and metal dashed around the device, with more focus directed to the screen.
What do we want to see in the LG G7? We're so glad that you asked.
A curved screen option
The LG G6 opts for business (flat) in the front and party (curved) in the back, but we'd like to see LG mix up the formula for the next iteration of its G series.
After seeing how well Samsung's curved Edge experiment turned out —being that it has made the core S product even more refined— the LG G7 would be the perfect testbet for a brand new curved look, with the hope being that the learnings will feed into making future G phones even better looking.
Plus, who doesn't love a bit of curved screen? It feels really good in the hand and looks futuristic. If LG can build in some utility, as we've seen from Samsung, all the better.
The latest Snapdragon chipset
The Snapdragon 821 inside of the LG G6 is no slouch. It's perfect for everyday use, only slowing down under the immense pressure of Daydream VR in the Google Pixel (the G6 doesn't support Daydream. We'll get to that later.). But even with its performance pedigree, it's old news.
When the G6 launched, one of its main highlights was that it used old technology —not the takeaway you're aiming for in your brand spanking new flagship smartphone. Not just that, the S8 showed it up with the next-gen Snapdragon 835 shortly after its release. Not the best look.
While LG's latest appeals to those looking for a well-built smartphone with a ton of features, it's going to have to work to get back the hardcore audience that cares about raw performance capability. Adopting the Snapdragon 845, or whatever the next chipset will be called, would be a good way of doing just that.
A removable battery
LG is familiar with making phones that have removable batteries. Take the LG G4, LG G5, LG V10 and LG V20 as some recent examples. So, there's little to no reason as to why its next flagship shouldn't have this sought-after feature.
Of course, slimmer design requires sacrifice somewhere around the device, so while it's understandable that LG removed the ability to swap batteries in its latest smartphone, it's a real crowd-pleaser that's worth keeping in mind for next year's model.
After last year's Samsung Galaxy Note 7 battery fiasco, the benefits of a removable battery explain themselves. Fortunately, LG's reputation in the battery department is iron clad, but even so, power users love being able to keep the experience going with swappable batteries and we're in the same boat.
Quad DAC and wireless charging in all regions
The LG G6 is the jack-of-all-trades, well, depending on where you live. If you're in the US, you're treated to wireless charging, but not the quad DAC hardware that makes your audio sing at audiophile-grade quality.
Those elsewhere in the world might have been treated to the quad DAC, but they were then missing wireless charging. As a result, there is no ideal version of the LG G6.
In the company's quest to give each region what they clamor for, they've abandoned a piece of their audience that has likely moved onto a different phone this year as a result.
We spoke with an LG spokesperson about the challenges of making the "perfect" phone and thankfully, stated that LG is always listening to consumer feedback. Given that said feedback for the LG G6's regional split of hardware features, we'll see if that's true when the LG G7 arrives next year.
OLED for VR
Lastly, let's touch on one of the G6's more inexcusable omissions: an OLED screen. The company has been rather predictable with its IPS display technology, so the fact that the LG G6 continued the trend wasn't a surprise, but that doesn't make it any less disappointing.
Many of the smartphone competitors have moved onto OLED screens, which offer a greater contrast ratio and brightness capability than IPS LCD does. While it suffers in its limited viewing angles, it makes up for with a very vivid picture that makes LG's technology look a little stale by comparison. To give you an idea of how behind LG is in this department, the best VR headset compatible with the G6 is Google Cardboard.
An OLED screen in LG's next isn't just to satisfy our desire for what the LG G6 doesn't have, it's a required component for Google Daydream support —something that LG's latest phone obviously doesn't have. Therefore, if virtual reality is your thing, you'll have to get your kicks on a different phone instead. LG, we have seen your stunning OLED televisions.  You can do this.
Related product: LG G5
Our Verdict:
The LG G5's modular party pieces are yet to be fully realized, but away from that you've got a supremely solid flagship smartphone – if only the battery was a bit better.
FOR
Strong screen
Super performance
Useful wide angle camera
AGAINST
Questionable design
No app drawer
Battery could be better
["Source-techradar"]