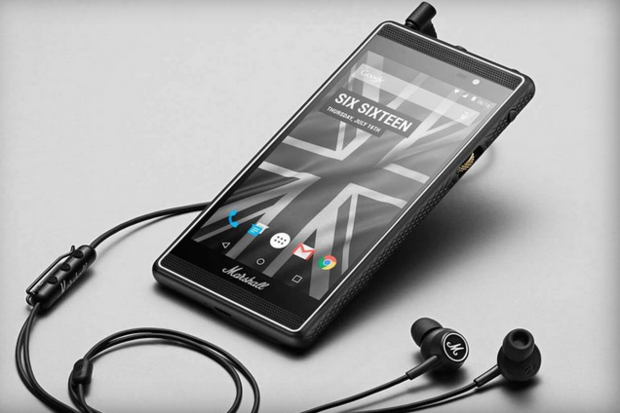 We sure didn't see this one coming! Marshall, known for guitar amps, headphones, and other professional music hardware, now sells its own Android phone.
It's called The London, and it looks to be an impressive piece of kit. The phone is all about music, with two audio jacks, two front-facing speakers, and a dedicated "M-Button" that launches your preferred music application.
The London also has a golden scroll-wheel that controls the volume and looks like it belongs on the side of an amp or stage speaker.
Marshall's phone will be available August 17 for about $584 (the current rate for 4,995 Swedish Krona) and includes a free set of Marshall earbuds. Presumably with its availability in multiple countries, the device will be unlocked for use on your preferred GSM carrier.
In terms of the rest of the specs, The London has a 4.7-inch, 720p display, 2GB of RAM, 16GB of storage, and an 8-megapixel camera. It's got a rather middle-of-the-road 2,500mAh battery, but it is removable. There's also a microSD card slot for additional storage. It supports LTE connectivity and launches with Android 5.0.2.
Why this matters: One of the narratives about Android is there's too many cheap and unattractive phones. The London appears to be a great differentiator. It doesn't have tremendous specs for the price, but it's a compelling alternative for someone who wants a device that isn't just another carbon copy of all the other glass and metal devices out there. Such niche phones are only possible with Android, and we hope to see more as time goes on.
["source – greenbot.com"]