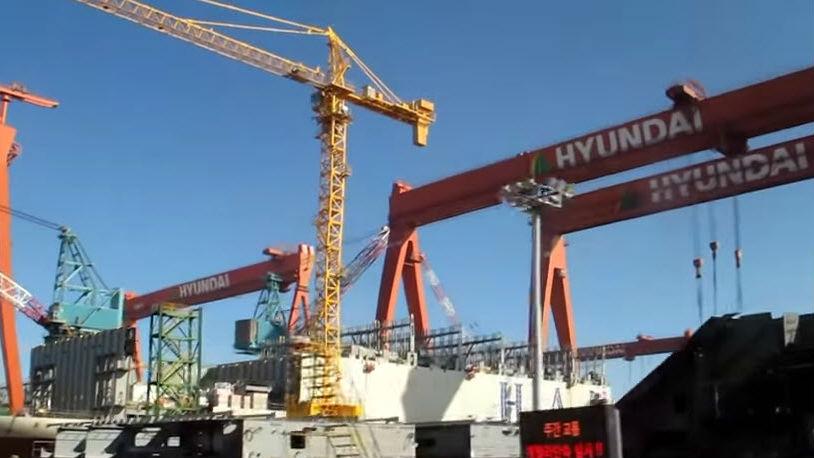 Hyundai Heavy Industries and technology company Accenture are collaborating to design a connected smart ship as part of the shipbuilder's plan to expand into maritime services provision.
The new project is designed to enable shipowners to better manage their fleets and achieve potential operational savings through the application of digital technologies.
Using a network of sensors that will be built into new vessels, shipowners will be able to capture a range of ship voyage information including location, weather, and ocean current data, as well as onboard equipment and cargo status data. By applying real-time analytics to new and historical fleet data and using data visualization technology to present the insights, shipowners will be able to monitor their vessel's status and condition in real-time to make data-driven decisions that support more efficient operations.
Services are expected to include real-time alerts and warnings, predictive maintenance and more efficient scheduling.
The connected smart ship will be developed using a combination of Hyundai Heavy Industries' shipbuilding and manufacturing expertise, and Accenture's digital and shipping industry experience. As shipowners seek innovative new ways to reduce vessel operating expenses, this collaboration will deliver a range of real-time services to improve the efficiency of their ships, while simultaneously strengthening Hyundai Heavy Industries' competitiveness.
"Businesses can gain a competitive advantage by embracing the connectivity wave underpinning the Internet of Things and integrating digital services into their products to keep pace with the next wave of innovation," said Eric Schaeffer, senior managing director, Accenture.
"Our collaboration with Hyundai Heavy Industries utilizes our digital technology and deep industry experience to enable a traditional "products" company to adapt its business model, taking advantage of digital technologies like analytics. Hyundai Heavy Industries' willingness to create value for its customers through adopting elements of the Internet of Things is a great step on its digital transformation journey."
"Through this collaboration with Accenture, our ambition is to lead innovation in ship operations, shipping and the port logistics sector," said Moon-kyoon Yoon, Chief Operating Officer of the Shipbuilding Division of Hyundai Heavy Industries.
The connected smart ship uses Hyundai Heavy Industries' on-ship platform and the Accenture Connected Platforms as a Service (CPaaS). Services to be offered to Hyundai Heavy Industries' customers through this collaboration include administrative and user management services and device management services. These help ensure all connected devices can be monitored and maintained remotely.
With real-time data collection and exchange across vessels, ports, cargo and land logistics, Hyundai Heavy Industries would be able to create additional services and revenue streams to customers across the lifecycle of ships and journeys, removing barriers between different elements of a ship's operation. The collaboration is part of Hyundai Heavy Industries' plans to expand its business, moving from manufacturing to services.
Hyundai Opens Innovation Center
Hyundai Heavy Industries has jointly opened the Ulsan Center for Creative Economy & Innovation (UCCEI) with Ulsan Metropolitan City in South Korea.
The center will serve as a springboard for the takeoff of domestic shipbuilding and offshore business; an incubator for medical automation business; investment and networking for startups; and a facilitator for local 3D printing business.
UCCEI will play a key role in leading the resurgence of South Korea's shipbuilding and offshore business by creating an environment where major shipbuilding companies, small and medium-sized equipment makers, and ICT (Information & Communication Technology) companies can cooperate to develop the next generation eco-ships and smart ships, and to localize major parts for ships and offshore facilities.
UCCEI also plans to share 2,500 eco-ship related patents of Hyundai Heavy Industries, Samsung Heavy Industries and Daewoo Shipbuilding & Marine Engineering with SME shipbuilders and ship parts companies.
For the development of smart ships, UCCEI will support ICT ventures to develop smart ship services by operating "Smartship SW Development Assistance System" and providing quality test services for new products and model ships along with an annual "Smart Ship SW Idea Contest."
The opening ceremony at University of Ulsan was attended by President Park Geun-hye; Ulsan City Mayor Kim Ki-hyun; Choi Kil-seon, chairman & CEO of HHI; Kwon Oh-gap, president & CEO of HHI; and 150 other guests.
["source – maritime-executive.com"]