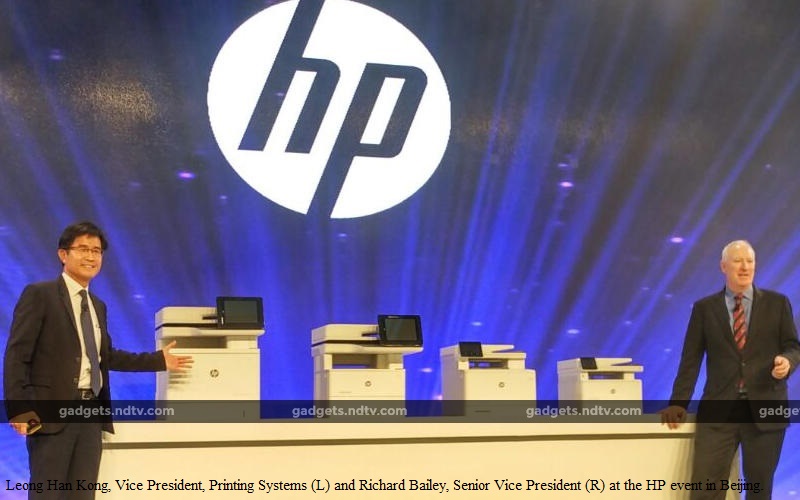 HP announced a new line of enterprise class multifunction LaserJet printers in Beijing, China on Tuesday. The new printers aim to secure the businesses' print environment.
HP cited a Ponemon Institute study that showed the growing importance of printer security, stating that that 56 percent of enterprise companies ignore printers in their endpoint security strategy, and 64 percent of IT managers believe that their printers are likely to be infected with malware.
The new enterprise range of printers and MFPs incorporate three new proprietary features. HP SureStart checks for the integrity of the BIOS at startup, and is capable of automatically restoring a golden copy of the BIOS stored in a protected part of the system when compromised. HP Secure Whitelisting ensures that only "known good firmware" is loaded and executed on a printer. Run-time intrusion detection does in-device memory monitoring for malicious attacks.
HP will offer a firmware update that adds two of these features – whitelisting and run-time intrusion detection to many existing LaserJet printers launched as far back as 2011, the company said.
The new printers incorporate HP's JetIntelligence toner technology. The company claimed that its JetIntelligence toner prints 33 percent more pages, improves printing speeds by 50 percent, while using 53 percent less energy, while having a 40 percent smaller physical footprint.
Two multifunction printers, the LaserJet M427 and M477 integrate single-pass duplex scanning and infinity scan-glass, for easy sliding of the paper off the glass after every scan. They also support printing of Word and PowerPoint documents directly via USB drive.
HP said that its JetAdvantage Security Manager, which lets customers adopt a policy-based compliance solution is capable of automated security monitoring and management.
"You can also install a certificate on the printer to make sure that only authorised people can access the printer. It only takes two minutes with the Security Manager." said Lindner Roman, HP Solution Sales Manager APJ at Hewlett Packard Asia Pacific at a product demo.
In a demo showcasing the capabilities of of the new JetIntelligence toner, Ratish Sasidharan, Color LaserJet Porfolio Manager at HP showed how the new range reduced the first print time to 9 seconds, compared to 17 seconds in the previous range. It took 25 seconds for a four page duplex printing in the new machine, compared to 40 seconds in the previous model.
Leong Han Kong, Vice President, Printing Systems, said that higher printing speeds, in single side, dual side, and print wake up times were significant improvements for their company. He emphasised on the security aspect – "Today, printers are no longer a peripheral to the PC. Today, all our printers are Web-enabled, in fact, they are standalone. It has all the computing power to be connected to the Web, send documents, retrieve them, without any connection to the PC. And they're as vulnerable."
Speaking later to Gadgets 360 he added, "We want to make sure that customers understand the importance of securing the printing device. The ability for these printers to reboot and self heal is a major breakthrough for us."
Kong also highlighted HP's efforts protecting customer investments with FutureSmart software, which supports 5-year-old LaserJet printers.
HP disclosed the approximate pricing and availability for four LaserJet devices. Available in October 2015, the HP LaserJet Pro M403 will be priced at Rs. 25,145, the HP Color LaserJet Pro M452 will be priced at Rs. 44,280, and the HP Color LaserJet Pro MFP M477 will be priced at Rs. 69,498. The LaserJet Pro MFP M427 will be made available in November, starting at Rs. 43,500.
["source-gadgets.ndtv"]