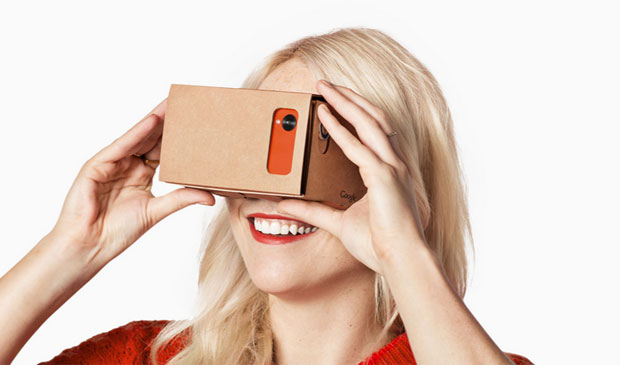 Google executives will probably spend a good chunk of time at an annual developers conference talking about a cardboard contraption that turns smartphones into virtual-reality goggles, even as the Web company rolls out new technology for software coders.
Cardboard is just one of many inventions that Google will be touting to the thousands of programmers congregating at its annual I/O event in San Francisco starting on Thursday. Also on tap: a new version of Google's Android mobile software, as well as updates for its efforts around other platforms, including television, Web-connected devices and automobiles.
Google isn't the only company investing more time and money in technology that blurs the line between virtual and real. Facebook spent $2 billion last year to buy Oculus VR, and Microsoft has been touting its own gadgets that let users interact with digital environments. At stake is a piece of a market that could be worth $150 billion by 2020, according to researcher Digi-Capital.
"When Google looked out at the market, they realised it was something serious and that they could actually turn it into something," said Brain Blau, an analyst at Gartner.
Google, based in Mountain View, California, declined to comment on its plans for the developer conference.
Of all the gadgets Google unveiled at last year's event, Google Cardboard was a surprise hit, putting virtual reality into the hands of everyday users without the high costs that come with special devices. Now, seeking to maintain momentum, the Web company is urging developers to create more software and features for cardboard-equipped smartphones, and will probably release guidelines for more advanced hardware, including electronic versions and software, analysts say.
The Google gadgets, which typically costs less than $25, has attracted upstarts that have moved beyond cardboard and are using plastic, wood and metal to make headsets. The devices, about the size of a child's shoebox, have a slot for Android-based smartphones, which are turned into virtual-reality displays using specialised applications. Users can then look through lenses on the boxes to experience an immersive digital environment.
Earlier this year, Google appointed Jon Wiley, lead designer for its main Web-search service, to lead design efforts for its cardboard and virtual reality initiative. The company announced in April "Works with Cardboard," a program that certifies whether a device is compatible with the technology.
Apart from its cardboard-based efforts, Google has also invested in Magic Leap, a startup specialising in computing and graphics that augment reality. The company, which raised $542 million in a funding round in October, is developing technology that superimposes digital images over real-life images.
Oculus, which has attracted much of the attention in virtual reality, said earlier this month it plans to ship its first Rift for consumers in early 2016 with pre-orders starting later this year. Samsung Electronics already sells a virtual-reality headset that uses Oculus technology, called Samsung Gear VR, for about $200.
Google has struggled to get some of its other devices adopted more widely. Earlier this year, the company scaled back plans to introduce Google Glass, its Web-connected-eyewear. The company also struggled to get more people to use Google TV.
Wearality, a startup that's making devices that turn smartphones into virtual-reality headsets, is betting that the combination of Google's reach and widespread availability of Android-based smartphones will give it an edge. Wearality is tackling the market with specialised lenses that show a larger viewing area. Its device will cost less than $80, according to Michael Jones, who recently left Google to become the startup's chief executive officer.
"We figured out the business model for VR," Jones said. "The insight of Google's Cardboard is the opportunity to address many more users than the VR market."
["source-nzherald.co.nz"]