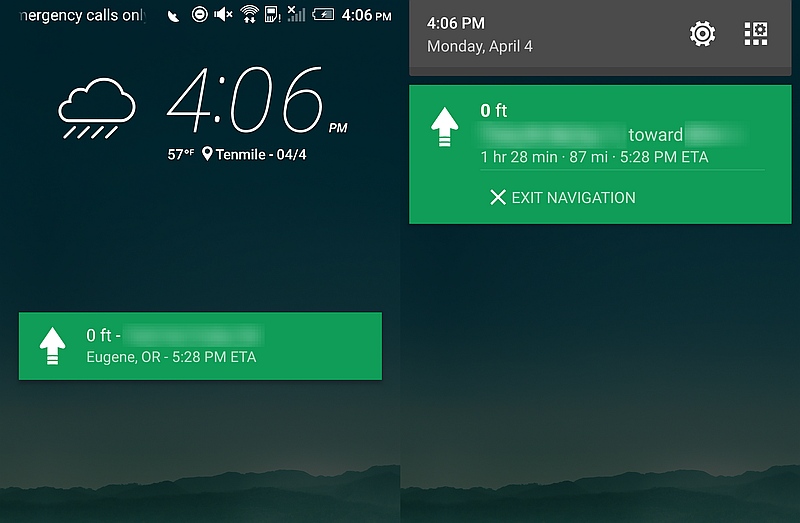 Google this week after rolling out Android Auto update and April security update factory images for Nexus smartphones, has rolled out an update for its Google Maps application as well. Google Maps for Android has now been bumped up from v9.22 to v9.23 and brings along plenty of new features.
First up is the new Navigation notification, which has now received a visual overhaul. While previously the notification for Navigation showed the information in Black and Gray colours on a broad white background, it now shows up in white colour in a green background and uses much less space than before.
The Google Maps v9.23 update now also lets you choose which notifications alerts it should give. The notifications can be toggled on or off for Questions about places, Show edit notifications, Adding your photos, Traffic from nearby events, and Timeline notifications – which are shown after a user has stopped at a location.
Google Maps also gets the ability to post a photo for a location review directly from the list of reviews.
Lastly, a nifty feature has been added – the option to "Automatically download offline areas" in the Offline Settings screen. Android Police performed a teardown of the app, and found code for the automatic download option that indicates Google will be pre-emptively downloading the maps where the users are so that they would not lose the track during poor networks. The app might still use a live connection even after downloading the offline app.
Some of the other features learned in the app teardown include Live Traffic, improvements to contributions section, notifications for places that need an image, Crowdsourced Curation.
Google Maps v9.23 update will take some time to reach all the users. However, the interested ones can also download and install the apk file of the app manually via the apkmirror website.
[Source:- Gadgets360]