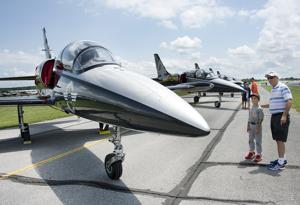 Aircraft today have the latest in technology, and air traffic control towers may be state-of-the-art, but people still make mistakes.
That was the key to a presentation on Saturday by Chris Hart, chairman of the National Transportation Safety Board, at the annual Aircraft Owners and Pilots Association Homecoming Fly-in in Frederick.
Pilots came from Florida, Michigan, New York and New Jersey, and many visitors drove from around the region to the annual show at Frederick Municipal Airport.
In Hart's presentation, which drew a considerable crowd, he noted that the NTSB investigates what happens after an accident and may be able to determine the cause. While pilot error is a leading factor, taking prescription drugs or not anticipating the flight area are some of the major causes of accidents.
"People from the flatlands aren't used to flying in dense mountain areas," Hart said.
Many of the problems come from improper maneuvering of the aircraft or error in landing procedures. And it isn't just the pilots who are at fault, Hart said. Air traffic controllers may give the wrong information.
"Be honest with yourself," Hart said. "Are you prepared and good to fly? Do you know your aircraft and where you are flying?"
Last year's show drew 3,000 people and 500 aircraft, said Steve Hedges, director of media relations for the AOPA.
Saturday's event had more than 2,500 reservations and many walk-ins, Hedges said. More than 250 volunteers as well as most of the 200 AOPA employees were on hand to direct traffic and help visitors find exhibits or presentations.
Hedges said AOPA worked with local hotels to coordinate needs for those who flew in Friday for a barbecue and to see the city.
The activity at the airport has made it among the busiest in the state, according to Hedges.
A 2012 study provided by Hedges states that Frederick Municipal Airport generated $110 million in revenue and about $7.3 million in taxes and supported 566 jobs directly and 1,286 jobs in total.
Alex Chisholm, regional sales manager for Textron Aviation, said sales of general aircraft are slowly growing.
"There are no typical buyers. They come from all walks of life," Chisholm said.
Visitors and vendors had plenty to say about the experience of being in Frederick for the event.
Bill Goldofski and Mario Ardizzone flew in from Long Island, New York, in a Cessna 172 Skyhawk they own. Goldofski thought the show was great, from the exhibits to the food, but he was critical of the airport's control system.
"It could have been a lot better," Goldofski said, adding that the air traffic was backed up considerably. "It is the first time I've been in Frederick. Once on the ground, everything has been great."
Goldofski said he began flying in 1994. After his wife died, some friends got him interested in flying as part of a six-member flying club. "It really made the difference in my life. When you are flying, you keep your mind busy on that."
Goldofski said he recently flew a young girl with health problems from Long Island to a hospital in Boston. "I wanted to give back for what flying has done for me," Goldofski said.
In the exhibit area, the company Mutt Muffs, of Westminster, had a booth showing its ear protection for dogs. A smaller version of the earphones worn by pilots, Mutt Muffins help keep the noise of aircraft from hurting pets' ears.
"We are in our 10th year," said owner Michele McGuire. She and her dog, Cooper, fly frequently, and she realized the noise was bad for her pet. "My husband doesn't like to fly, so Cooper and I do."
John Sapienza, of Leesburg, Virginia, takes his dog, Patsy, on flights and has used the Mutt Muffs for eight years. "If my wife won't fly, Patsy and I do," Sapienza said.
Entertainment on Saturday was provided at the fly-in by the Flying Musicians Inc., a nonprofit group whose members share an interest in both subjects.
The group has more than 400 members and travels the country to such locations as "Music City," Nashville, Tennessee, and Oshkosh, Wisconsin, where some of the largest air shows are held each year.
"There is a connection," said John Zapp, co-founder of the group based in Texas. "Both musicians and pilots have to practice, be precise. We try to educate young people about careers in aviation."
["source-fredericknewspost.com"]