Entry-level Nokia 2 purportedly shown in leaked image
Earlier this month a leak filled us in regarding Nokia's chipset choices for its upcoming smartphones, including a then unheard of entry level Nokia 2 model. This was said to be the cheapest Nokia smartphone for 2017, boasting a Snapdragon 212. However, in the meantime a lot of other sources have contradicted the details of that leak, when it comes to the high-end echelons of the Nokia lineup. So you may want to take the information about the Nokia 2 with a pinch of salt too.
Or maybe not, since today a new leak out of China claims to show us the design of the upcoming Nokia 2, alongside a rough drawing of the Nokia 3 for comparison. The source of this leak corroborates the fact that the Snapdragon 212 SoC will be used in this cheap handset, but also mentions the very similar SD210 as a possibility for the Nokia 2.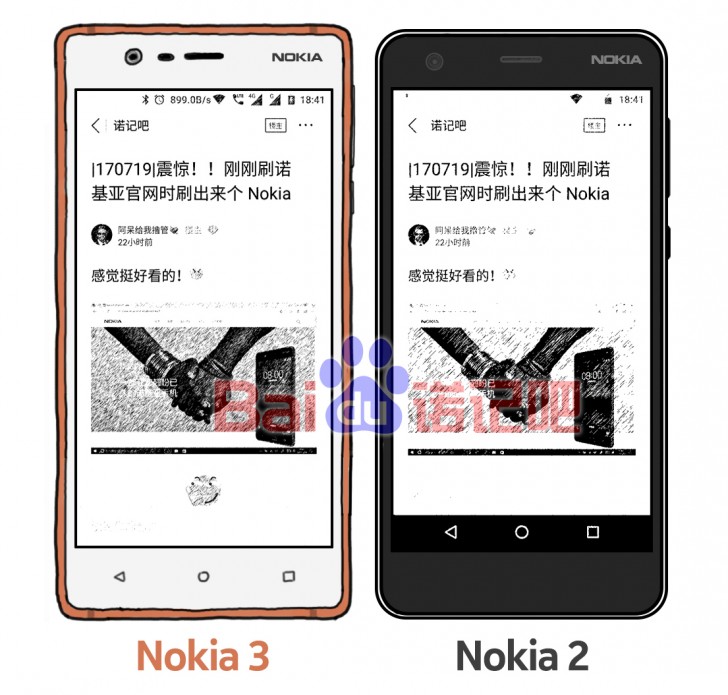 As you can see, there's no fingerprint scanner on the front – and there surely isn't one on the back, since the Nokia 3 doesn't have one either, and the 2 should be even more affordable. Interestingly, Nokia will choose to use software-rendered Android buttons in the entry-level model, even though none of its currently announced handsets have such an arrangement.
The screen size looks to be the same 5″ as it is for the Nokia 3. The overall shape of the Nokia 2 is more rounded however, and the person who outed the image says it will resemble the Lumia 620 from years past. That's all the information we have for now, and even all this is just a rumor at this point, don't forget that.
["Source-gsmarena"]