This class 5 student runs library in Bhopal slum, CM Shivraj Singh Chouhan pitches in to help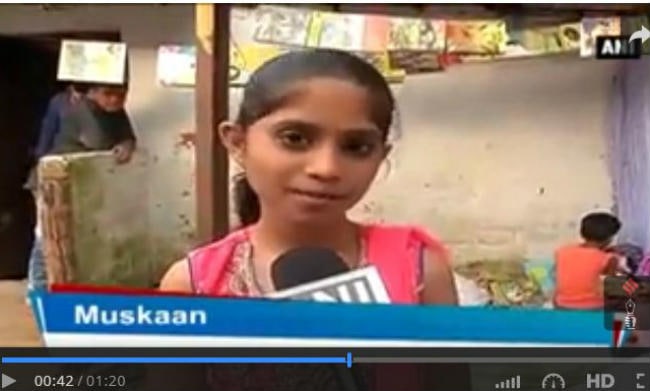 While most children of her age spend time in playing or studying, this 11-year-old girl has started a small library to encourage reading. Meet class 5 student, Muskaan Ahirwar, who while living in a slum area of Bhopal has found that books are the best way to promote knowledge. Her determination has been recognised by the Madhya Pradesh Chief Minister Shivraj Singh Chouhan, who has offered her a financial assistance of Rs 2 lakh to set up a proper library. Chouhan met the girl at his residence on Wednesday and handed her a cheque of Rs 2 lakh.
The 11-year-old girl's efforts have now been recognised by promised Muskaan to build a one-room library for her, an official of the public relations department said. "The situation would soon change if girls like Muskan are extended support by the whole society. The government will extend all possible support," Chouhan said while handing over the cheque to the girl.
This started when State Education Board visited this slum and handed over about 25 books to children to share and read. They found Muskaan been more curious about it. As per a TOI report, the officials decided to give this responsibility to Muskaan of educating other students in slum which she happily took.
Ahirwar now runs the small library – 'Bal Pustakalaya' – from her make-shift house. She  started with 25 educational books which have now grown and accommodates around 1,000 books."
The girl lost hope of continuing the library after the death of her father, Manohar Ahirwar, on July 7 this year. However, after receiving the financial assistance from the chief minister, the girl says now nothing can stop her and the other slum children from moving ahead.
"Papa used to say do something big, study hard," says Muskan, who wants to be a doctor.
Her library remains open between 5 pm and 7 pm every day.
"Nearly 20 to 25 children come to the library (every day). They have to sit on a mat. A few children take the books to their homes and return it later. In a bid to know if they read the books, I sometimes ask questions from it," she says.
Muskan says she also maintains a register of the library's accounts.
[Source"indianexpress"]