BlackBerry KEYone Review
The KEYone is one of the only Android phones with a physical keyboard
It benefits from BlackBerry's famous productivity software and shortcuts
The specifications are mid-range but the price is premium
Over the past three or four years, BlackBerry has tried multiple different strategies in the wild hope that something will work. We've seen candybars and sliders; touchscreens and keyboards; budget and ultra-premium; traditional and experimental; BlackBerry OS and Android. Every time the company seemed to be moving in one direction, it would reverse course. You can read about each of these missteps in great detail in our analysis of the BlackBerry Z3 (Review), Passport (Review), Classic (Review), Leap (Review), Priv (Review), and DTEK50 (Review). In tracing that journey, you can see how the company tried desperately to attract new users, then settled for clinging to its dwindling fanbase and then finally gave up all hope.
BlackBerry now licenses its name and its software to other companies. TCL – which holds the rights for most of the world excluding India, Indonesia, and a few other Asian markets where the brand is still popular – launched its first BlackBerry product, the KEYone, earlier this year. In India, the rights have been acquired by Optiemus Infracom, a name that might not immediately be familiar. However, this company has a lot of history in the Indian phone space. According to Optiemus, it sold India's first mobile phone back in 1995, and it now operates the Univercell retail chain and Zen brand of phones.
Optiemus is now selling the same KEYone in India, with a few modifications. The first few batches are made by TCL and imported, but the company is planning to ramp up its own design and manufacturing operations in India soon, in a joint venture with Taiwan's Wistron. We have the Indian version of the KEYone with us today, in a limited edition black finish. Here's our full review.
BlackBerry KEYone design
Obviously, the main attraction of this phone is its physical keyboard. BlackBerry (or should we say TCL) is one of the only major Android manufacturers to even experiment with keyboards, which is a shame because there could be a real market for phones that break the standard touchscreen mould. The keyboard looks a bit squashed right at the bottom of the phone, and it is definitely compressed when compared to the ones on classic BlackBerrys. In a clever move, BlackBerry has integrated a fingerprint sensor into the spacebar. It's the natural position for a Home button, and we found ourselves pressing it by accident all the time. The Android navigation buttons are all capacitive and are placed between the screen and keyboard.
This isn't the only interesting thing about the KEYone's design. It's rounded on the bottom and flat on top, for a rather unusual overall look. The glass in front is subtly bevelled on the sides, but not curved like most phones today. The entire rear is made of a rubberised plastic which offers excellent grip. The main camera and its flash are designed prominently into the upper left corner of the rear.
On the top of the phone, you'll find only a 3.5mm audio socket. The power button is on the left, which is extremely unusual. Unfortunately, BlackBerry's standard Convenience Key is on the right, just below the volume buttons, and it's really easy to hit this out of habit when trying to turn the phone on. There's a USB Type-C port on the bottom flanked by two speaker grilles, only one of which is actually a speaker.
Although the KEYone is quite tall, the screen loses a bit of height in order to fit the keyboard in. It is also relatively thick at 9.4mm and heavy at 180g. While the rounded body visually masks how much space there is on either side of the screen, you feel this phone's bulk when you start using it. When typing, you'll naturally have to hold this phone close to the bottom so that your thumbs are over the keyboard, which makes it a bit top-heavy and awkward. It is possible, though not very comfortable, to balance this phone in one hand and type with one thumb.
In the box, you get a relatively compact charger, a USB Type-C cable, a wired headset, two additional pairs of rubber ear tips in different sizes, a SIM eject tool, and some pamphlets.
BlackBerry KEYone keyboard
As its name suggests, this phone is all about the keyboard. BlackBerry has created a niche for itself, but is it really worth buying a phone just for this one feature? We spent nearly a week with the device and used its keyboard heavily to find out.
The keyboard uses BlackBerry's classic layout which will seem peculiar to anyone who hasn't used one before. The Shift keys are on either side of the spacebar, numbers are arranged like a traditional phone keypad rather than a row, and punctuation is all over the place. BlackBerry obviously had to decide whether to cater to its legacy user base or a new generation of users, and it chose the conservative option.
Once you get your grip sorted and get used to the layout, typing with two thumbs is not hard. The keys themselves are extremely wobbly which makes it little uncertain. The three main rows extend right up to the phone's edges on both sides, and the keys at the ends of each row are very easy to snag on fingernails, loose threads, and assorted little things you might have in your pockets. We were afraid that we'd accidentally rip these keys right off the phone.
The surface of the keyboard is touch-sensitive, a feature that we first saw and loved on the BlackBerry Passport. You can slide across it to scroll up, down, left or right just like you would on a trackpad. When typing, you can hold Shift down and swipe around to select text. The surface is, of course, uneven and it's a bit difficult to be precise, but it's still very cool. Buried deep within the Settings app, you'll find an option that enables Swype-style typing over the physical keyboard, but at the cost of all other gestures.
Also, like with the Passport, there's a hybrid component to this keyboard. When typing, you can see three autocomplete suggestions in a row on the bottom of the screen. Swiping upwards on the keyboard below it "flings" that word to where your cursor is. Pressing the Sym key brings up an on-screen symbol selector, which is actually one panel of the same keyboard we've seen on BlackBerry's all-touch Android phones. With one tap, you can switch to the standard QWERTY panel (with a horizontal numbers bar). You even get auto complete suggestions at your fingertips right on the soft keys.
This duplication shows us that the hardware and software aren't perfectly in tune. Another example of this is the fact that you can't just start typing even when it would be obvious to do so. For example, you should be able to start searching through the Play Store or typing into a new browser tab's URL field immediately. Instead, you have to tap each field to activate it first, like you were pulling up an on-screen keyboard. This is unnecessary friction, and you can see that the native BlackBerry search app doesn't suffer from it. Another small issue is that the placement of the Android navigation buttons disrupts the continuity of the hardware-software keyboard.
Finally, one feature carried over from classic BlackBerrys that we actually love is the ability to bind shortcuts to the keyboard. You can short-press or long-press each of the letter keys and choose to trigger an app, toggle a setting, or a call a specific contact. You can even set up shortcuts to actions within apps, such as opening a new note, setting a new alarm, composing a BBM message to a contact, or playing a specific playlist. This gives you a total of 52 customisable shortcuts plus the Convenience Key on the side.
BlackBerry KEYOne specifications and software
Despite its higher-end price, the KEYone has decidedly mid-range specifications. The processor is an octa-core Qualcomm Snapdragon 625, which is now a little dated. The version of this phone sold in other countries has less RAM and storage, but 4GB of RAM and 64GB respectively here. Another key difference the Indian version of this phone is it can work with two SIMs here. Unfortunately, it's a hybrid dual-SIM arrangement, so while you can expand storage using a microSD card of up to 2TB, that comes at the cost of the second SIM slot. 4G and VoLTE are supported.
The screen has an unusual 1080×1620 resolution and 3:2 aspect ratio because of the keyboard. It's still quite crisp at 434ppi and you won't notice much of a difference when doing things that don't involve gaming and video playback. BlackBerry says you actually get more usable screen space in productivity apps because there's no soft keyboard.
There's a 3505mAh battery, and Qualcomm's Quick Charge 3.0 feature is supported. The rear camera has a 12-megapixel sensor while the one in front comes in at 8 megapixels. You also get Wi-Fi 802.11ac, Bluetooth 4.2, NFC, and even FM radio.
On the software side, we have BlackBerry's heavily customised Android skin, now on top of Android 7.1. It's much the same as what we saw on the Priv and DTEK50, except for the absence of the swipe gesture to launch the BlackBerry Hub. There are some very neat touches such as the ability to swipe on home screen icons to show widgets associated with their apps, and a huge number of direct shortcuts – any action that can be assigned to the keyboard keys can also be triggered with a custom home screen icon.
You can choose a dark UI theme and swap the default Android icons for classic BlackBerry ones. The tiled app switcher is a bit of a pain, since tiles are of multiple different sizes and you can't easily see the order they were used in. We're also still not fans of the BlackBerry "splat" badge on app icons, which tells you that you have notifications, but not how many.
The BlackBerry Hub replaces a simple SMS app and shows all your messages and emails across accounts and services. It somewhat duplicates the Android notifications pane, but the advantage is that you see only communications from people here, not app alerts. It works with messengers and social media apps as well – some apps such as Facebook let you message contacts and even update your status from within the Hub, while with others show notifications that pull you into the native app when you tap them.
The DTEK security app is a dashboard that claims to show you a security overview of your phone, but it's much like the "system optimiser" apps that don't really do much. Two of the security checks tell you that you are in fact using a BlackBerry phone with BlackBerry's version of Android, which isn't really helpful information. The one really useful feature is that DTEK can track whether apps are trying to modify the OS, and will alert you to any such attempts.
BlackBerry KEYone usage performance and cameras
After spending considerable time with the KEYone, we can see that this phone is only going to appeal to a narrow audience. A lot of people did hate typing on touchscreens ten years ago, but it's second nature to us now, and the cramped KEYone keyboard isn't a clear-cut improvement. It definitely takes some getting used to, and even after a full week, we were unable to match our touchscreen typing speed and accuracy.
We did not encounter apps that had any problems scaling to the squarer screen but it's possible that there will be some. The awkwardness of gaming and watching movies is a problem, but a lot of people will buy this phone as a secondary work-only device or because they care much more about productivity. Other than those considerations, the screen itself is sharp and crisp though not the most vibrant. Viewing angles are fine and brightness is good enough for outdoor usage.
Apps run smoothly and multitasking isn't a problem, but we definitely don't get a flagship-class level of performance here. We got only 60,449 points in the AnTuTu benchmark and 82.55 in Basemark Web, plus 8,323 points in 3DMark Ice Storm Extreme and 24fps in GFXBench's T-Rex test. Geekbench 4.0 ran but crashed multiple times when attempting to generate results. The phone didn't get hot except after multiple hours of video playback.
The 12-megapixel rear camera takes generally decent photos in the daytime. Autofocus locks quickly and details are generally quite good. We even got some nice depth of field effects in close-up shots. Colours didn't really pop even in shots taken in bright sunlight, but in all other regards, our sample shots were quite good. On the other hand, photos taken at night tended to be blurry thanks to much longer shutter times, and ISO values also varied wildly between shots taken in immediate succession, leading to inconsistent results.
Only very few of our sample shots came out just right. There was also a lot of noise and grain in low-light shots. A Manual mode toggle can be found in the settings, but even in the default Auto mode, you get an exposure compensation slider on screen.
The BlackBerry KEYone camera app offers a slow-mo video mode and several combinations of resolutions and framerates. Recording can go up to 4K/ 30fps but only for five minutes at a time. Software stabilisation only works at up to 1080p/ 30fps. Videos taken at 1080p and 4K looked crisp, and motion was smooth.
BlackBerry boasts about the KEYone's battery life, and in our experience, it was one of the device's stronger points. We were consistently able to get through a full day with a bit of power left over. However, our usage was skewed towards Web browsing, messaging and casual apps, with less gaming and video streaming than usual because this phone really doesn't lend itself to those activities. Our HD video loop test ran for 9 hours, 36 minutes, which is quite average.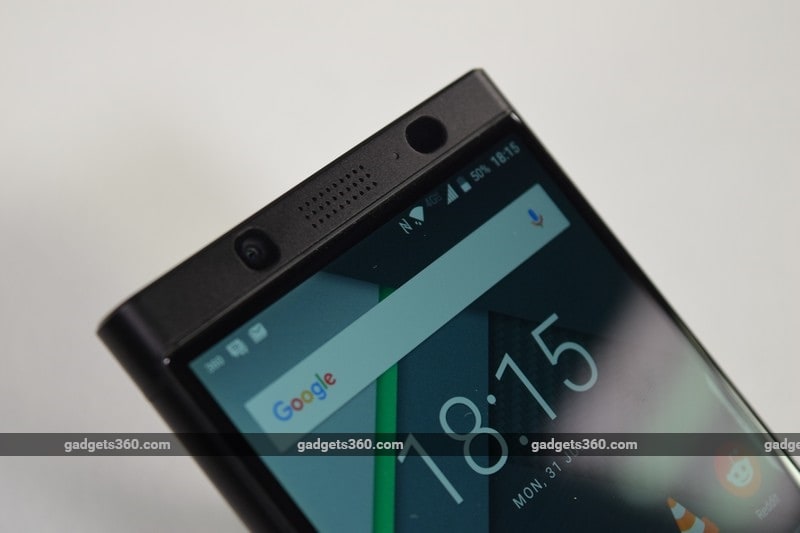 BlackBerry KEYone in pictures
Verdict
This is a unique smartphone and can't really be judged as an equal with others in its price class. It clearly targets a niche, but what's unknown at this point is whether the target audience is big enough. Even if there are people who like the idea or the memory of a physical keyboard, will they be willing to accept the tradeoffs that this phone demands? In a universe of sleek metal phones with borderless screens and curved glass everywhere, the KEYone is a bit of a brute and we're not sure we would like this as our primary phones, even though we can really make use of its productivity features.
The keyboard layout, button placement, and sometimes awkward marriage of hardware and software all show where the KEYone found its balance, but there are still some seams between the Android and BlackBerry worlds.
At this price, you could get the LG G6 (Review) or Samsung Galaxy S7 (Review), and of course there are plenty of well-regarded phones such as the OnePlus 5 (Review) and Honor 8 Pro (Review) that are priced quite a bit lower. You would really have to value the keyboard above having a large screen and slim body, not to mention the general performance and camera quality of a high-end phone.
For the latest tech news and reviews, follow Gadgets 360 on Twitter, Facebook, and subscribe to our YouTube channel.

Design
Display
Software
Performance
Battery life
Camera
Value for money
Good
Physical keyboard with shortcuts
Useful BlackBerry apps
Good battery life
Bad
Expensive
Small screen
Average performance
Landscape usage is awkward
Read detailed BlackBerry KEYone review
Also See
BlackBerry Curve 9320 (White, 512MB) 512MB – OFFER

BlackBerry 9360 (Black, 512 MB) 512MB – OFFER

BlackBerry Curve 9320 (Black, 512MB) 512MB – OFFER
["Source-gadgets.ndtv"]