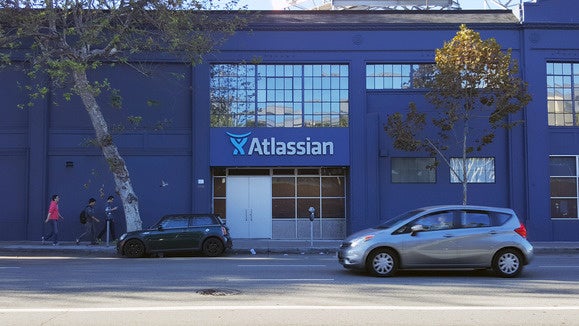 It was late September when reports first suggested that Atlassian was planning a U.S. IPO, and on Monday, the Australian software maker followed through by filing its papers with the Securities and Exchange Commission.
Neither the number of shares to be offered nor the price range have yet been determined, but the company seeks to raise as much as $250 million with the offering. It was reportedly valued above $3 billion in its last private investment round.
Atlassian plans to list its common stock on the NASDAQ Global Market under the ticker symbol "TEAM." Goldman, Sachs & Co. and Morgan Stanley will lead the offering.
It's not uncommon for tech upstarts to be unprofitable even as they file for IPOs, but Atlassian is a marked exception. The 13-year-old maker of team-collaboration software has been profitable for each of the past 10 fiscal years, it says.
For the fiscal years ended June 30, 2013, 2014 and 2015, respectively, Atlassian's net income was $10.8 million, $19.0 million and $6.8 million, according to the F-1 prospectus. Its revenue has shown a compound annual growth rate of 46.7 percent from fiscal 2013 to fiscal 2015, when it reached $319.5 million.
Though it's renowned for maintaining no sales force and relying largely on word-of-mouth recommendations, Atlassian claims more than 51,000 paying customers in more than 160 countries, including 79 of the Fortune 100 and 273 of the Fortune 500.
Its products include JIRA for team planning and project management, Confluence for team content creation and sharing, HipChat for team messaging and communications, Bitbucket for team code sharing and management and JIRA Service Desk for team services and support applications.
"Atlassian is a company that deserves a lot more visibility than they have," said Al Hilwa, a program director with IDC. "They are a shaker and mover in software engineering, and their technology is extremely widely used."
The company has achieved "amazing growth" largely on the strength of organic funding, Hilwa added. "To see Atlassian get the visibility of a public company is a plus for the customers and communities that use their software."
["source -pcworld"]