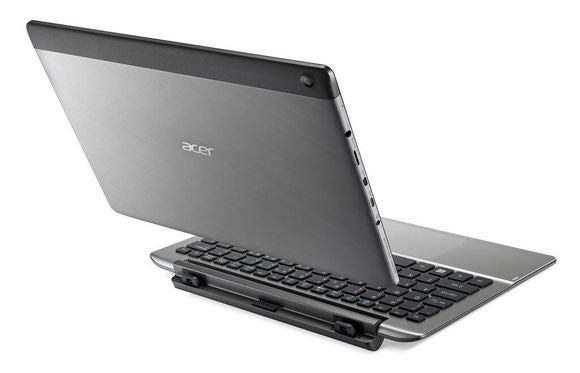 Acer CEO Jason Chen wants his company to be the "last PC maker standing," he said last month, and on Friday the company continued to rain blows on its competitors with a flurry of new laptops and desktops running Windows and Chrome.
It will show the new PCs at Computex next week—little more than a month after it held a big event in New York City's World Trade Center to unveil dozens of other new laptops, desktops and gaming products.
Perhaps the most interesting of the latest batch is the Aspire Switch 11 V laptop-tablet hybrid (pictured at top). The 11-inch full HD screen can detach from a keyboard base to become a tablet. The device has a Core M processor and offers up to eight hours of battery life. It has a Gorilla Glass screen, which gives it a higher level of protection in case of a fall. Acer hasn't said when it will ship, or at what price, but its premium features could make it more costly than other Switch products, which start around $200 for a 10-inch screen.
Acer also announced a new lineup of Aspire Z all-in-ones, including the Z3-710, which has a 23.8-inch screen, and the ZC-700, which has a 19.5-inch screen. The all-in-ones will have Intel chips and full HD screens, with up to 8GB of memory and up to 2TB of hard drive storage. They will come with Windows 8.1, but be upgradable for free to Windows 10, and will ship in the third quarter.
The company also added the Chromebox CXI2 to its ever expanding line of Chrome laptops and desktops. It has no feature that set it apart from rival offerings from companies like Asus or Dell, but Acer is the largest vendor of Chrome devices and its products have generally been well received. The CXI2 will be available with the option of Intel Celeron or Core i3 processors, 16GB solid-state drive, up to 8GB of memory, 802.11ac Wi-Fi and Gigabit ethernet. This desktop could fall into Google's big "Chrome for Work" program to push the Chrome OS into more businesses. Pricing details were not immediately available.
["Source-pcworld.com"]