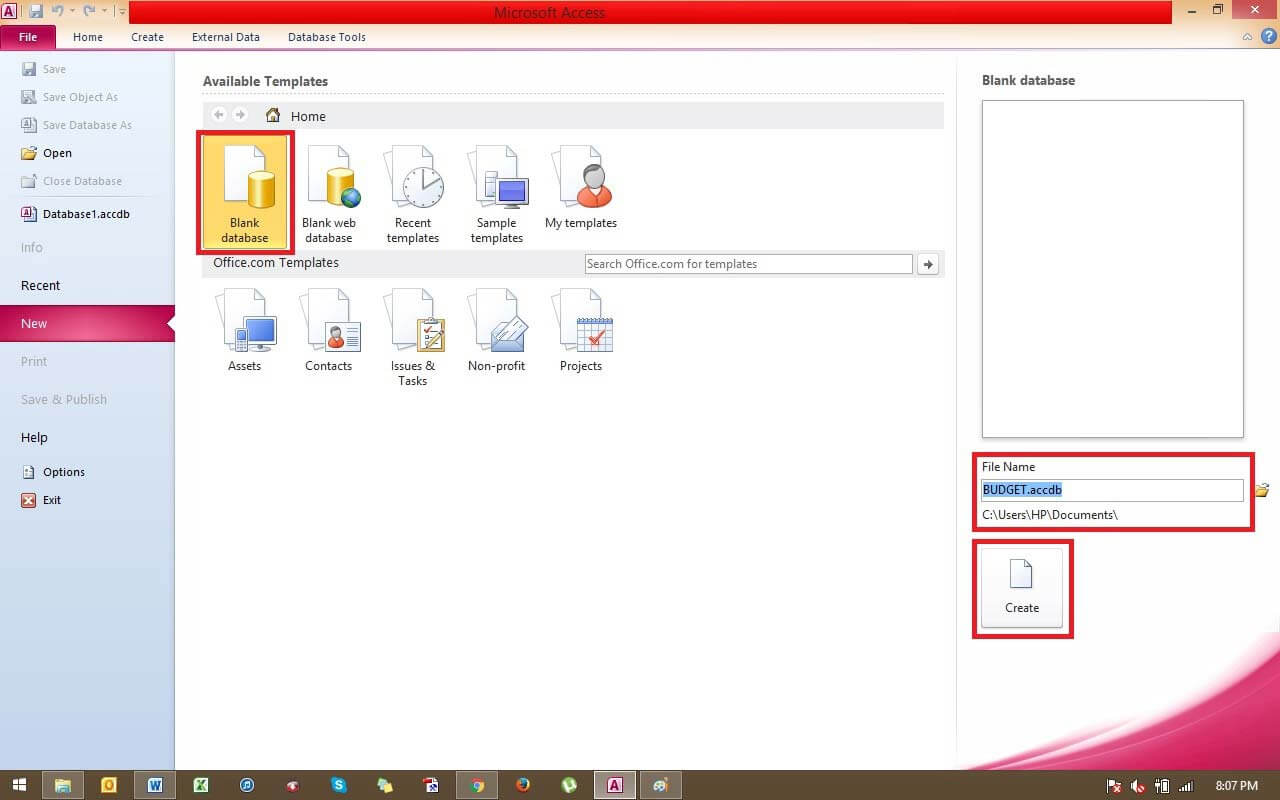 When you talk about Microsoft Access Online it is not at all complicated to use. Instead, it is simple, extremely efficient, and time-saving and you can make the best from your data. You will notice that you can get a lot more out of your data when you connect Excel sheets with an Access database. You can also work on a Citrix Cloud to avail its benefits towards increasing productivity.
Here are 6 east steps to create a Database:
Organize structured tables for data.
It is suggested for you to have a rough estimate of your table structure. You do not have to worry about perfection as your tables will develop as you operate Access and gain its expertise. Once you are set, start Microsoft Access, select File > New > "Blank Database" and click on the "Create" key to get started with your Microsoft Access database!
Create the Tables.
To create the Regular Expenses table, go to the right-hand side tab.
The primary column (ID) is created by default and works as the primary key. (Which can be changed.)
Select "Click to Add" to edit the next Column's name. You will see a drop-down including choices for the type of column. In this way, you can add multiple columns as you need.
Lastly, save your recently created table by hitting Control Key + "S" keys. When prompted for a name, type the desired name you want.
Insert data into tables
In this step, you can manually insert data into the tables. Access also allows several other simple ways to enter data into tables by importing from an Excel sheet, text file, etc.
Access creates a unique number for the first column as this column is usually used to access unique rows of data from the table. But this value might be challenging to work with as it has no significance to the data.
Designing the Table
Once the tables are created it is important to know that they turned out to be proper so you can insert any added rules for accuracy and data validation. You can try this in the "Design View".
The efficient Design View of Access is instantly accessed using the Design Tab > View > Design View.
Defining Table Relationships
Relationships describe how our tables are linked to one another. These connective links are known as 'foreign keys'. To establish table relationships in Access, head over to the Tools Tab and select Relationships.
View Data and Query from your Tables
This is reasonably the most vital and useful element of using Access instead of Excel. After you follow all the steps mentioned above, the next crucial step is to set this all collectively and observe the combined data. This is done with the help of a Query. You can build a Query by going to the Create tab -> Query Wizard.
You can use Access on SharePoint to build web database applications so if you are looking forward to switch to Microsoft Access, try Apps4Rent to get reliable migration services for SharePoint Online Migration.