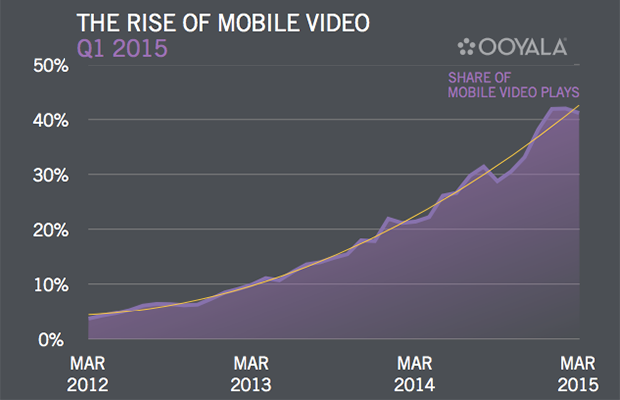 As the number of active smartphone users worldwide is estimated to touch 2 billion in 2015, the preferred platform for watching videos is seeing a steady shift from desktops to hand-held mobile devices. A recent report from Ooyala, a video technology company claimed that video consumption over mobile phones has spiked by 127 percent in a year.
From being barely devices to connect people on the go, mobile devices are steadily pushing the desktop PCs and connected TVs to oblivion. The report suggested that with users prioritizing convenience over quality, screen size has rapidly become a non-issue for watching videos online. The Ooyala report claimed mobile will account for 50 percent of total online video views by the end of the current year.
Growth in Mobile Video Views in Q1 2015
Ooyala in its report pegged video views on mobiles at 34 percent and on tablets at 7 percent. The data suggested that users preferred smartphones over tablet devices to watch videos— online as well as offline. Overall, the video views on mobile devices grew by 95 percent on a year-on-year basis, up from 21 percent in Q1 2014 to 41 percent in Q1 2015.
With the rise in the number of mobile users worldwide, it is no surprise that the users are adapting to watching videos on smaller screens. The introduction of 4G networks and high-quality HD screens on smart devices is improving the video experience exponentially, not to mention simpler. The auto-play video feature introduced by Facebook and Twitter can also be credited for peaking video traffic on mobile devices, given that smartphones are preferred for social networking especially uploading pictures, check-ins, event updates etc.
Short-form vs. Long-form Video Content
While short videos find favor among smartphone users, long videos have their faithful on tablets.
Ooyala claimed around 59 percent of long videos—10 minutes or longer—are viewed on tablets. The corresponding number for mobile phones was pegged at 37 percent. For long videos, connected TVs and desktops come second and third with 43 percent and 35 percent respectively.
However, for videos up to 10 minutes of duration, desktops led the market in Q1 2015 followed by mobile phones with 65 percent and 63 percent share respectively. Tablets were a distant fourth with 41 percent share.
Q1 2015 Video Ads Growth across Devices
Another focus area of the report was with respect to video advertising trends and user preferences on different device platforms. The impact of in-video ads can be assessed by the factors such as ad impressions, fill rates and completion rates. Unlike textual content ads or banners, here, marketers taken into consideration fill rates and completion rates along with ad impressions to review the success of their video ad campaign.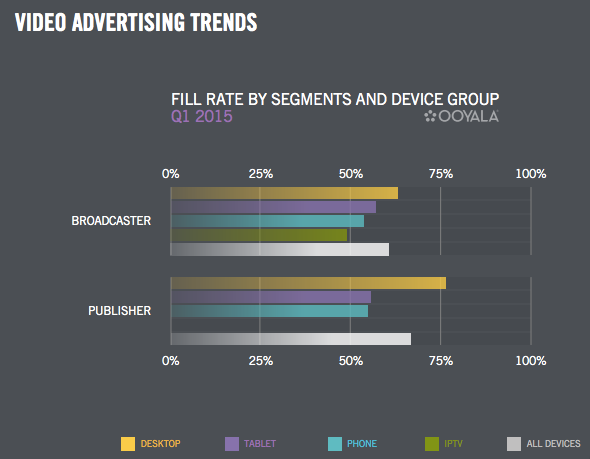 According to the report, desktops registered the maximum number of ad impressions, fill rates and completion rates. Almost 90 percent of all ads displayed on PCs for broadcasters were completed. The corresponding rate on tablets and mobile phones were 89 percent and 79 percent respectively.
Desktops also grabbed the numero uno position for ad impressions, according to the report. In Q1 2015, ad impressions for both broadcasters and publishers registered better ad impressions on desktops with 54 percent and 62 percent respectively. Desktops dominated the video ads segment in terms of fill rates registering a share of 77 percent and 64 percent for publishers and broadcasters respectively.
In conclusion, while the report suggested that desktops continued with their dominance in providing better ROI for advertisers compared to mobile devices, the performance of in-video ads on mobile devices is catching up and might match desktops by the end of the year.
["source – dazeinfo.com"]