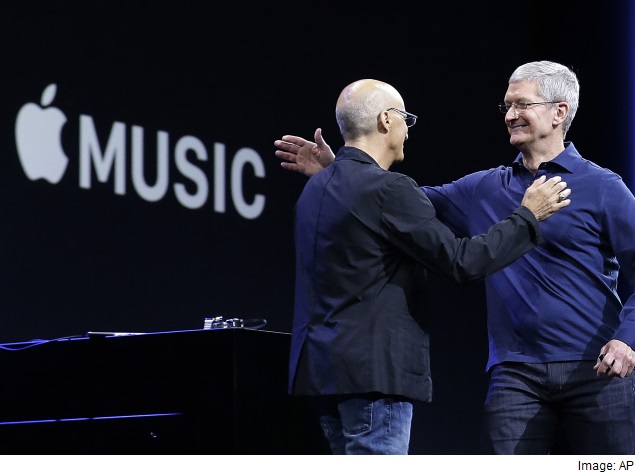 While Apple was preparing a splashy introduction for a new service that would stream music over the Internet for a fee, the attorneys general of New York and Connecticut were quietly investigating the Silicon Valley giant's negotiations with music companies in search of potential antitrust violations.The attorneys general wanted to know whether Apple pressured the music labels – or whether the labels conspired with Apple and one another – to withdraw support for popular "freemium" services offered by companies like Spotify in favor of Apple's paid music subscriptions.
A freemium service typically starts free and is supported financially by advertising. Companies with freemium business models hope a free service is compelling enough to persuade consumers to pay for a more sophisticated offering – one typically free of ads.
Universal Music Group on Tuesday confirmed it was cooperating with the industrywide investigation, a continuing effort led by the attorney general of New York, Eric T. Schneiderman, and the attorney general of Connecticut, George Jepsen.
The first written response to the antitrust inquiry came from Universal Music Group a day earlier when the company's legal firm, Hunton & Williams, sent a letter to the attorneys general. The letter said Universal Music Group has no agreements with Apple or music entities like Sony Music Entertainment and Warner Music Group that would impede the availability of free or ad-supported services.
The music company added that it "shares the attorneys general's commitment to a robust and competitive market for music streaming services in the mutual best interest of consumers, artists, services and content companies alike – and we have a long track record to that effect."
A spokesman for Schneiderman said the attorney general was looking into Apple's negotiations with music labels to preserve the benefits consumers have enjoyed from these new streaming services.
"It's important to ensure that the market continues to develop free from collusion and other anti-competitive practices," said the spokesman, Matt Mittenthal.
Jepsen, the attorney general of Connecticut, said in a statement that his office was satisfied with Universal's response, before adding, "We will continue to monitor that market to ensure that consumers and competition are protected."
The European Commission is also looking into Apple's negotiations with the music labels.
This is the second time both Schneiderman and Jepsen have pursued Apple on antitrust grounds.
In 2013, a federal judge said Apple violated antitrust law by colluding with book publishers to raise ebook prices above Amazon's standard $9.99 pricing for digital books, after the publishers settled.
The attorneys general, who were both involved in the ebooks price-fixing investigation, appear to be pre-emptively looking into the terms of Apple's new music service for any signs of industry collusion before Apple Music is available to consumers at the end of this month.
Unlike Spotify and other streaming music services, Apple does not offer a free version of Apple Music. But the company offers a three-month free trial period and says it will let artists and record companies make various kinds of content, including songs and videos, available for free on Connect, a promotional section of its service.
The so-called freemium model used by services like Spotify has been at issue over the last year.
Last fall, the singer Taylor Swift removed her music from Spotify in a dispute over its free version, In recent months top executives at the major record labels have been sharply critical of free services, arguing that they do not generate enough money and they give consumers no incentive to pay for music.
Yet Spotify, which started in 2008, has been by far the fastest-growing subscription music service, with 60 million users, 15 million of whom pay. Last year, the company had $1.3 billion in revenue, and 91 percent of that money came from subscriptions. However, Spotify, which is privately held, also reported a net loss of $197 million.
But some artists and executives at independent labels have defended the freemium model.
Last month, Stephen Cooper, the chief executive of the Warner Music Group, the smallest of the three majors, warned that "before people conclude that freemium should be burnt at the stake, we should think very carefully about the consequences."
["source-gadgets.ndtv.com"]