How to Transfer SSL Certificate from Shared Hosting Server to VPS?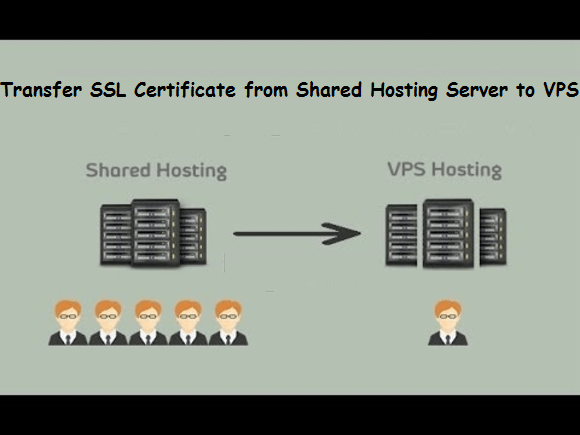 For security reasons, it is very important to have SSL certificates on your website. Having an SSL certificate on your website enables your users to make transactions with freedom from stress because of personal data hack. If you sell products or services and accept payments through credit cards where users' personal information is required, security is the primary thing for them. That is why you need to have SSL certificate on your website to secure the critical information of your users. SSL Certificates that stand for Secure Sockets Layer Certificates are cryptographic protocols. These certificates provide security for your users when they browse web.
There are many certificate providers (like Comodo, Symantec, GeoTrust, GlobalSign, etc.) available in the industry who are offering complete security solutions for your website.  Comodo SSL certificate authority is widly used and achieve number one position by providing unsurpassed web solutions and services.
Installing and using SSL Certificates are very easy and convenient so anyone can install and use the certificates on their site. If you have any issue, SSL certificates provider can best help you to solve your issues. The website owners who have SSL certificates can use it at any server. If you are a beginner as a website owner, you can have your sites hosted at your shared hosting server and after some time when you think the necessity of having Virtual Private Sever (VPS) you can have it without the stress of how to transfer SSL certificate from shared hosting server to VPS. It is very possible to transfer your existing SSL certificate when you change your hosting server.
Read the following systematic guideline that will help you transfer SSL certificate from one server to another.
Easy Guide to Transfer SSL Certificate:
First, you need to go to the Web Hosting Manager (WHM) of your new server (VPS) account.
Under SSL/TLS in WHM, there is option "Generate a SSL Certificate and Signing Request". You need to click on it.
Now you have to fill up the form with correct information and then select Key Size as 2048
Click on "Create" button.
Now you need to copy the Certificate Signing Request (CSR) Key from the box. Along with it, you will see two other boxes, keep them as they are.
Enter your domain name on which the certificate was issued and then select the option of SSL Certificates from the left panel.
This option will list all your certificates, which you have on your account and the domain name.
For the protection purpose, download link has been deactivated, so you can't download the certificate at this point of time.
After selecting the SSL certificate, click on "Re-Key" button.
Now you need to paste the Certificate Signing Request which you had already copied from your new VPS WHM
After pasting the CSR, click on "Confirm" button.
Now you can notice that the "Download" link is activated, and so you can download zip file sent for SSL certificate by certificate authority.
Now you need to go to your VPS account where you have to send a request to customer support telling them to install this SSL certificate. For doing this, you need to send them the zipped file as well as "SSL Private Key" with your request. "SSL Private Key" can be found from one of the 3 boxes generated while generating CSR. WHM sends an email with the data, so you can check that in your email as well.
Now it is Done. I hope, your previous SSL certificate should install successfully without any issue. Now you are able to renew it from your new host.
Here I have explained how to generate CSR followed on WHM, however you can use some other ways for it as there are also other procedures to generate Certificate Signing Request for different types of servers.