Top 3 Economical Jeeps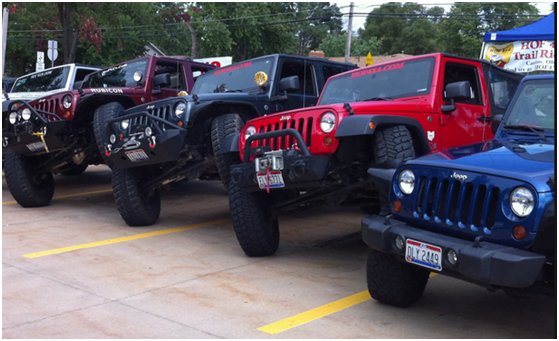 When the heck did SUV's become luxury vehicles? These guys are supposed to be the durable, rough and tough, outdoorsy working man's vehicle, right? So, what's with these SUV's going for the same cost as an Alfa Romeo?
The good news is that even Jeep is still making vehicles for us poor non-millionaires, rides that are reasonably priced and fuel-efficient. Here are some of our favorites:
Jeep Grand Cherokee Laredo
One of Jeep's flagship models, the 2017 version of the Cherokee Laredo goes for just under thirty grand and offers everything you want from the Jeep SUV experience: Eight speed automatic transmission with a 3.6l V6 engine running at 293 horsepower, plus some modern conveniences like electronic stability and automatic air condition. Your MPG will average 19 in the city, and 26 on the highway. If you're looking for a safe, comfortable family car that's also fun to drive and great for weekend camping trips, you can't do much better than a Laredo.
When you tell people you drive a Jeep, the Wrangler is the model they're expecting to see in your driveway. The classic box-like design recalls old war movies and new adventures out in the wild. This ride is simplicity personified, and according to traffic school answers, one of the most appealing vehicles on the market for outdoorsy and blue collar folks. A new Wrangler will run you less than twenty-five thousand, and it's pretty much the cheapest car in the US to insure, with average annual premiums going at about less than a third of the most expensive car to insure in 2015 (the Nissan GT-R Nismo). This owes to two main factors: Jeep Wrangler drivers don't make a lot of claims, and the Wrangler is very easy to repair. You're not going to be waiting on parts to ship from Japan. If your Jeep is reduced to a pile of rubble, your mechanic probably has everything he needs on hand to put it back together. Add that to a ten percent discount for completing traffic school or defensive driving courses, and you're looking at a ride you could just about insure for the change you find in your couch.
The best-priced SUV in America, the Jeep Patriot combines the tough, ready-to-rock aspects of a Wrangler with the comfort, safety and space of a Laredo. A new Patriot will run you around eighteen grand, which is about as low a price as you're going to get on a brand-new SUV these days. The ride gets 22 mpg in the city, 27 on the highway with a 13.5-gallon tank, it carries a four-star safety rating from the NHTSA, and boasts a towing capacity of 1,000 pounds, which isn't something you can say for just any family-friendly vehicle. The car just looks really cool, too.
A lot of family SUV's have that smooth, sanded-down look. They're not bad looking or anything, they're just not as visually distinctive as something like a Jeep Wrangler or a Humvee. The Jeep Patriot retains the hard edges and squared off corners of a Wrangler, you drive this car onto the lot and people know it's a Jeep without having to look at the brand name.
Jeeps are some of the most fun cars in the world to drive, and with new safety technology, among the very best for the family, as well as being incredibly economical, combining affordability with efficiency. You hear a lot of moms and dads complaining that they had to give up the Corvette when the kids were born. Jeep drivers don't have that problem.