Samsung IRIS CAM module spotted in import documents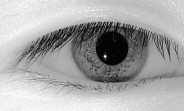 Iris scanning technology has been a long-standing rumor with Samsung flagships. Going as far back as the Galaxy S5, numerous sources claimed that the technology is ready to ship with the Korean giant's next best thing. And, the statement has been reiterated ever since for almost every Galaxy S and Note models.

Now, in a new development, there might finally be some tangible evidence that Samsung is close to implementing iris technology. A tracking entry in Zauba indicates something called an IRIS CAM has been shipped from South Korea to India. This could be indicative that Samsung is already busy testing the technology in its local R&D department.
An optimistic but somewhat justifiable prediction is that the upcoming Galaxy Note 6 will be pioneering the new feature. Then again, we might be setting ourselves up for yet another disappointment, which seems to be becoming a tradition at this point.
[Source:- GSMarena]