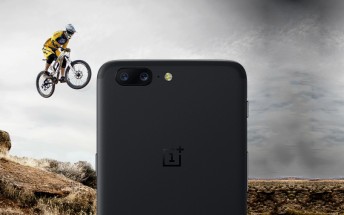 A month ago, OnePlus promised to enable EIS for 4K video recording on the OnePlus 5 and here it is – OxygenOS 4.5.7 brings the additional stabilization, along with some other changes.
EIS (Electronic Image Stabilization) works in conjunction with OIS (a hardware stabilization) for an even smoother footage. Still, it requires a lot of computing power, which is why many phones put an upper limit of 1080p/30fps. The Snapdragon 835 has enough grunt to pull it off, though.
The rest of the changelog includes Wi-Fi connectivity improvements (again) and standby battery enhancements (it doesn't say if Energy Aware Scheduling is enabled). There's also a new font (OnePlus Slate), Android Security Patch July 1st 2017 and a newer Google Mobile Services package.
There are bugfixes as well:
Fixed occasional sound leaks in the speakers when using earphones
Fixed camera shutter sound bug in silent mode for Indian region
Fixed missing sound channels when recording videos
Note that this update is being distributed incrementally over the air. Today, only a lucky few will get it, but the rollout will pick up speed in the next few days.
[Source"indianexpress"]